Canada watch 10-15-11
By Rochester falcon watcher MAK
Good morning everyone! Yesterday watchers KathyO,Dana,Lisa McK,CarolP,Joyce and I took a trip to Canada to watch falcons. It was like a last hoorah for me until I can get around again after knee replacement surgery tomorrow. Arriving at the Harlequin location we were treated to some lovely flying from Quest and Kendal.
A few of the CPF folks were there to join in the fun and when we were done watching this fabulous pair we all went to lunch. Tracy told her usual animated stories about the feisty O'Connor and so we got directions to go meet her ourselves. When Joyce and I arrived at the site both O'Connor and her mate Hurricane were on the big blue H of the hospital where there nest site is located. As soon as we stopped they were both off and she was squawking up a storm at him.
The pair did some flying for us and settled back on the H. We observed them for a bit longer and moved along to the next site. Upon arrival at MEC we found the female falcon on the Symcor building just down from the nestbox.
While we were at lunch it was decided that they would give this bird the name Infinity because it had double 8″s that were sideways on top of each other on the legband. On our way home we stopped by the Burlington Bridge location. We saw no falcons but we observed hundredsand hundreds of Starlings gathering under the bridge to roost for the night. They were quite noisy too! I couldn't get real clear pics cuz the wind was so strong that I couldn't hold my camera steady but…well you get the picture!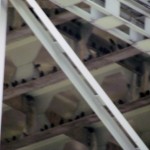 As the sun was setting we left Canada happy watchers having seen 5 falcons and a whole lot more.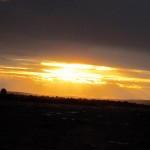 Links for an album and video from the day are below. Enjoy and keep smiling!  🙂
http://www.youtube.com/watch?v=nG8fNVB_I0c
http://www.kodakgallery.com/gallery/sharing/shareRedirectSwitchBoard.jsp?token=309155733213%3A1676413594&sourceId=533754321803&cm_mmc=Share-_-Personal-_-Email-_-Sharee-_-Top
I truly am blessed to have the opportunity to go on these road trips and I thank my friend Joyce very much for taking me.