Morning watch 10-16-11
By Rochester falcon watcher MAK
Hi folks! Truly this will be my last morning watch report for awhile as tomorrow is the big day…the beginning of a new life for me with my first of 2 new knees.  I can't wait to ride a bike again!
My dear friend Joyce picked me up to go falcon watching and the falcons came through for us.  First we found Beauty on the top ibeam north corner of OCSR. For clarity this is the side facing away from the Times Square building so the cameras can't see them when they are over there.
It seemed like she was hunkered down for awhile so we headed over to KP to see if we could find Archer since the last time he was seen was on Oct. 12. We had no luck in finding any falcons at KP so we returned to the downtown area to find the Beautyful one in the same spot where we left her. Suddenly Joyce noticed a falcon to the left on the top ibeam from where Beauty had been and now she was flying above us where we were parked on the Andrews St. bridge.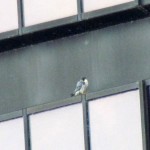 She flew to the north and we drove over to Bragdon St. by the Radisson Hotel for a closer look. Beauty returned to the OCSR building and landed a couple feet away from Archer.
They both flew off to the southeast and returned to OCSR top ibeam northeast side quite a distance apart but facing each other.
You will have to click on the pics to view a larger version. Sorry!  After a few minutes they both flew off together circled around and returned to their previous spots on OCSR. At this point Dana and CarolP joined us. It was getting close to the time I would have to end my watch and get home to take care of some things in preparation for going to the hospital tomorrow. I'm not sure when I'll get out to see our fabulous falcons again but I know I miss them already! I have a link for an album from this watch at the end of my report. As I said my goodbyes and we were on our way down Main St. one of the falcons flew off the building toward us over the river and then returned to OCSR. It seemed to me like it was giving me a nice sendoff and saying goodbye! Have a great day today, tomorrow and all the days to come until I return and can say it again to all of you! And give a SMILE as often as you can!!! 🙂
http://www.kodakgallery.com/gallery/sharing/shareRedirectSwitchBoard.jsp?token=371480833213%3A434310081&sourceId=533754321803&cm_mmc=Share-_-Personal-_-Email-_-Sharer-_-Top