Morning Fledge Watch 7-29-15
By Rochester Falcon Watcher MAK
It was a bit muggy out with a starting temperature of 68 (F) 20 (C) and some thin clouds which cleared up as the sun got higher in the sky
I began my day with Billie as she was on the top south side window ledge of Seneca Towers. I shared space with her for 15 minutes and then she flew southeast.
I followed behind and caught up with her at the Kodak Hawkeye nest box. She was on the railing close to the box as I pulled into a parking lot across St. Paul St. from the building. She had her back to me and didn't stay long as she flew southwest toward the river at 6:15am.
I left for downtown and as I pulled over on the Court St. bridge after checking the east side I noticed a falcon on the south side railing of Widows Walk (WW). I drove over to Broad St. to watch from next to the Terminal building. The back lighting was bad from there  so I moved forward and stopped next to the Democrat&Chronicle building. I was able to ID this juvie as Cadence. She was looking in every direction-most likely looking for mom or dad with her breakfast.
At 6:44am Cadence turned and flew northwest and I followed suit by driving down Fitzhugh St. by the Sister Cities parking garage and pulled over. She was now on the northeast cube of the Frontier Communications tower (FCT). That is her mothers' favorite cube and I couldn't believe how much she looked like Beauty.
I chose to go to the City Hall parking lot for a different angle on our little beauty who's not so little. Cadence had her back and side to me during the half hour I spent there with her.
She took off at 7:20am  heading east and flying right into the sun where I lost sight of her.
I drove around downtown and from the Broad St. bridge I thought I could see the top of a head on the east side of the Powers building. I drove down to the end of Aqueduct St. where I could see it from a closer vantage point and could see the partial wing of a falcon at the nest box through the railing.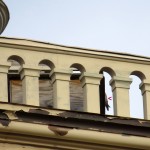 I drove to the Andrews St. bridge for a better look but the bird was gone when I got there. I wouldn't see another falcon until after 9am when I spotted one on the middle arm of FCT again from the Andrews St. bridge. The only place to pull over was right below the tower which only enabled me to see that it was an adult. I thought Beauty but can't say for sure.
I drove over to Plymouth Ave. to have a look at the front of this falcon but it was gone when I got there. I didn't find another falcon either downtown or at Seneca Towers when I got home at 10am. It was a slow watch this morning but seeing the beautyful Cadence provided me a reason to smile! 🙂
Last night Lynda picked me up for a night watch and we were treated to Beauty and Dot.ca coming to the High Falls gorge as we were on the pedestrian bridge. I am including a photo album and a video link of Beauty as she was on the gorge floor getting a drink as a mama duck and her 4 ducklings were allowed to pass right in front of Beauty. DC had landed in the falcon sucking tree and left-Beauty flew up to it after she had her fill of the Genesee River water. What fun-thanks Lynda!
As always click on the links below to see our Rochester Peregrine Falcons in action
https://share.shutterfly.com/action/welcome?sid=0AaN3DFm0ZMWqkK0