Morning Fledge Watch 7-30-15
By Rochester Falcon Watcher MAK
It was a humid 76 (F) 24 (C) degrees when I started out this morning, It started raining as soon as I got in my car and continued for much of my watch
When I reached the south end of my parking lot at Seneca Towers it was raining sideways right at my face as I struggled to get a pic of Billie on the top window ledge south end. I got it and quickly put my window up before my camera got too wet. I then went out to Seth Green Dr. thinking the trees would help shield me but that was a no go so I left for downtown after checking for more falcons. There were none at that time other than Buffalo Billie.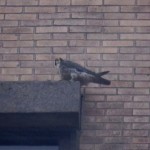 After a check around downtown I stopped on the Court St. bridge to see 2 falcons next to each other on the east side railing of Widows Walk. I quickly drove over to the hole and just as I pulled over one of them flew off and went into a stoop toward the river in the general direction I had just come from. The falcon that remained was a juvie.
The juvie left just as it started to pour of rain. I found Genesee on the base of Mercury a few minutes later at 6:40am and he was soaking wet. I think he may have been the juvie that was on Widows Walk. He stayed perched like a statue until the rain let up then started preening a little.
At 7:18am Genesee turned to the north and flew off carrying a lot of water weight. I can relate to that except I don't fly! LOL
I searched for the next 45 minutes and left from the High Falls pedestrian bridge for Seneca Towers. When I arrived on Seth Green Dr. Bith and Sellie were home to greet me. They were perched a few feet apart on the west side railing.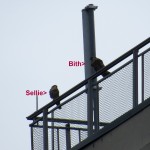 They only stayed for a minute as Bith charged Sellie making him fly off then Bith followed and juvie games began with them chasing each other around the building a few times. They flew north out of sight and never returned.
That ended my watch on an early note at 8:20am with a big old smile on my face! 🙂
Click on the links below to see today's videos