Morning Falcon Watch 10-28-15
By Rochester Falcon Watcher MAK
Dark and overcast wind swept rain this morning with a temperature of  49 (F) 9 (C)
After a day off yesterday due to car trouble I was ready to get out there this morning and find falcons. The weather had other plans for me as there were no falcons seen at Seneca Towers (ST) or Hawkeye (HE) I'm sure because they were hunkered down out of the wind and rain. When I got downtown and pulled over on the Andrews St. bridge, I spotted Dot.ca (DC) on the 2nd I-beam north corner of OCSR with his back to me.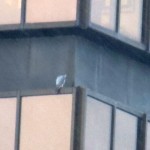 I drove around to Bragdon St. to check the south side of the OCSR elevator shaft just in case Beauty was in there but she wasn't. I had a closer view of DC from there but still couldn't see the front of him.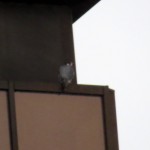 I then drove around the block to the Radisson Hotel by Main St. to check the north side of the elevator shaft and one last angle of DC.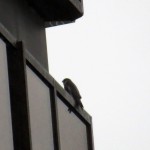 I made a trip around to the Times Square area and to the east side with no luck finding the Beautyful one until coming back down State St. where I spotted her on the northwest side of OCSR on the top I-beam around 8:30am. She too, had her back to the elements and me.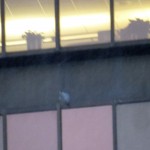 It was raining pretty hard at this time and the dark conditions made it hard to get a good photo of her.
I could just barely see DC's head from where I was when I decided to move on to check the Medley Center. No birds of any kind were seen there but the fall colors shown thru the nasty weather conditions very well.
I left there and checked St. Ann's Home and saw nothing there. Then I checked Hawkeye again before going home to Seneca Towers-no sightings at either location.
I took a couple pics from my living room window to give y'all a sense of how close the Hawkeye plant is from Seneca Towers-only a half mile. The first pic is looking southwest over the Genesee River and the second pic looking south over Seth Green Park to Hawkeye.
I ended my watch at a little past 9:30am smiling as I was happy to be rolling again! 🙂
Click on the link below to see today's very short snippet video