Morning Falcon Watch 10-29-15
By Rochester Falcon Watcher MAK
The wind was whipping more than yesterday and rain came down in sheets at times with dark conditions and a temperature of 53 (F) 12 (C)
I found Seth on the west side railing of Seneca Towers from Seth Green Dr. then I drove to East Ridge Rd. just in time to see Billie fly off the north window ledge and go into a stoop down in the river gorge.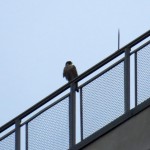 I left for downtown when she didn't come back. As I arrived on the Andrews St. bridge it started raining. I spotted Beauty on the Frontier Communications tower (FCT) platform eating and Dot.ca on the top I-beam north corner of OCSR.
A few minutes later the rain started coming down in sheets and DC left at that time for the OCSR elevator shaft. The Beautyful one kept eating for a few more minutes and then she couldn't take it any more either-she flew off with the remains to the top I-beam northeast side of OCSR to finish her meal. I went over to Bragdon Place by the Radisson Hotel where I could see DC on the south ledge of the elevator shaft and Beauty.
Beauty had a few different pieces that she picked at and while I was taping a video of her one of those pieces fell off the I-beam. I believe she was having a little trouble keeping the wind from blowing the rest of it off as well. She turned around and moved over a couple times before finishing up.
Beauty finished eating then cleaned herself up before pooping and turning her back to me. I kept expecting her to fly over to the elevator shaft to join DC but she didn't while I was still there.
I left downtown around 8:45am to check the Medley Center but I had no luck finding anyone there. I then drove to my spot on East Ridge Rd. by St. Paul St. to watch the love birds Billie and Seth who were on the north window ledge very close to each other.
Billie had a very full crop so I'd have to say she caught something earlier when I saw her stoop into the gorge. Seth flew off at 9:33am heading north over the river and eventually disappearing behind trees.
I was very happy to end my watch at about 9:45am with a smile after having seen our downtown and Seneca Towers pairs of Peregrine Falcons doing well! 🙂
Click on the links below to see today's videos