Morning Falcon Watch 10-30-15
By Rochester Falcon Watcher MAK
The temperature was 43 (F) 6 (C) when I started out and it was mostly cloudy with some wind and no rain this morning
I started out on Seth Green Dr. at 7:45am with a falcon on the northwest corner of the railing. Wasn't sure who it was until I drove over to East Ridge Rd. where I could see it was Billie there and Seth on the north end of the roof above her.
They took off at 7:52am to the north over the river-Billie left first immediately followed by Seth. They didn't return so I headed downtown.
I spotted Beauty on the top I-beam south corner of OCSR from the Broad St. bridge then I went down in the hole on Aqueduct St. for a closer look.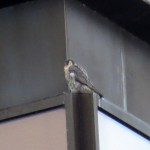 I believe she was looking for Dot.ca (DC) and at around 8:30am she flew over to the east side railing of the Powers building. I went down to the end of Aqueduct St. at Main St. where I could see her but not the nest box. I found out later that DC was in the nest box-I thought so at the time because the Beautyful one bowed once before taking off and I caught a glimpse of him following behind her.
I looked for them but didn't find them again so I headed over to the Medley Center-no sightings there or at Hawkeye so I went home to Seneca Towers. Stopping first on Seth Green Dr. then to the south end of my parking lot to watch Seth on the south window ledge and Billie on the southwest corner of the roof. They both had food in their crops.
They were keeping an eye on their territory as the sun started to shine thru the clouds.
I left them to it, ending my watch at 10:15am smiling after a successful falcon watch in which I saw our 2 Rochester Peregrine Falcon pairs! 🙂
Click on the links below to see today's videos