Morning watch 12-11-11
By Rochester falcon watcher MAK
On another brisk and bright sunny December morning in Rochester CarolP picked me up for a watch. We started downtown and couldn't find Beauty anywhere so we wandered over to Irondequoit  mall but before we got there we had to stop and take a pic of a Breast cancer pink bulldozer. On one side of it was this caption: Clearing a path for a cure.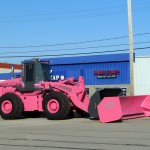 Having found no pefas at the mall and surrounding area we headed to KP for a look with yet again no sightings. We had to be getting back downtown for I was going to join Shaky,June,CarolP and Ravi in the Times Square building for some camera maintenance. When we arrived on the Broad St. bridge we spotted a couple Chinook helicopters to the south and then the Beautyful one on the northeast corner of the Crossroads building eating.
It was time to go up to the nest box as the others had arrived. We went most of the way in an elevator and then we had to climb 2 flights of spiral stairs.
My knee held up very well.  I got to see and touch the nest box where Beauty and Archer brought up Callidora(Helga Jean for Janet) and sweet boy Jemison! And here's my first view of it from down in the well.
On the floor of the well were a couple  leftover tidbits from one of Beautys' meals.
Ravi was fixing the main cam while CarolP stood on the ladder to assist him. Shaky,June and I stood in the well as Carol said Beauty was on Mercury.
She didn't stay long and Ravi finished up and when Carol got down off the ladder she asked me if I wanted to go up there. Was she kidding… of course I did and so up I went! What a view from up there…
And so I touched the nestbox in 3 spots before climbing down off the ladder feeling very good about my experience. This watch was over and before we departed Carol took a pic of me standing below the nest box smiling! 🙂