Falcon watch 1-14-12
By Rochester falcon watcher MAK
Boy what a full day of fun with my fellow falcon flakes after a long housebound week!  The day started with CarolP picking me up for a morning watch. We found the Beautyful one on the Kodak Office tower perched atop the right side arch above where the nest box used to be. The streets were not plowed too well and while we were turning around to get a good look at her she left. We had no idea what direction she went in so we searched for a while to no avail. Carol decided we'd go to Charlotte to see what we could see and as we were near Irondequoit Mall she thought we might as well check there first. Bad decision for there were no falcons there and we ran into a median that was completely covered with snow as the parking lot had not been plowed. We ended up with the front tires off the ground and the underside of the car resting on the concrete curb. unfortunately the car was front-wheel drive so I knew we weren't going to go antwhere without a tow. I asked if Carol had AAA and so she called them. They said it would be an hour so I did my best to keep her laughing and not be too upset over it for I didn't see any damage. In the meantime watcher Lynda texted me and asked if I wanted to go on a watch with her. I told her the situation and she came over to sit with us and wait for help. 2 hours later the tow truck showed up and freed Carols' car.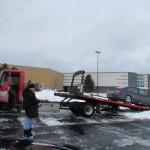 I hopped in Lyndas' car and we followed Carol to her dealer to get it checked out. She went home while Lynda and I went downtown to join Brian and Joyce who were watching Beauty on the money bag hand of Mercury.
Lynda and I went to KP after this and told Brian and Joyce who had a couple errands to do that we would meet them in Charlotte to look for the Snowy Owl. After only a few minutes I spotted Unity flying in from the east and we watched her fly to the blue building and land on a ledge just below the roof top. She flew off and landed on the same ledge a bit further down to the right.
I called security to let them know we were there and the guy said can I ask you a question about the birds all serious like and I said yes, what do you want to know? He said when it gets real cold out like this do they put on clothes or booties  for you to see! LOL I laughingly said no but they do foof up their feathers to keep warm and we both had a good laugh. Lynda and I didn't stay long for we were losing light quickly and so we went to Charlotte. We arrived before Joyce and Brian and found the female Snowy Owl across the river on the Summerville pier about half way out just beyond the rocks. It was a long distance and not much light so my pics are of poor quality.
I n took a couple pics of the ice that had formed on the Charlotte pier railing.  Lynda was way behind me cuz it was brutally cold out on the pier.
I could see Brian,Joyce and her dogs had arrived and were walking out to join me. My fingers were getting painfully cold so I snapped a couple more pics of the owl and headed back to join Lynda in her warm car. She was too cold to come out with us on the pier. Lynda brought my attention to a pair of long-tailed ducks in the river as I walking up to meet her.
A few more pics of our resident female Snowy Owl which Lynda thinks we should name Summer cuz she hangs out in Summerville so much.
When Brian and Joyce came back to the car I asked if everyone wanted to come to my house for coffee. So as the sun was setting on this watchers day we left with a smile on our faces. 🙂