Weekend Falcon watch 1-21/1-22-12
By Rochester falcon watcher MAK
I got skunked yesterday (Saturday) having no success finding Beauty or Unity but I did see a good looking Red-tailed Hawk on St. Paul Blvd.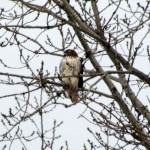 I stopped by the east end of the pedestrian bridge at high falls. The waterfalls were flowing rapidly down into the gorge.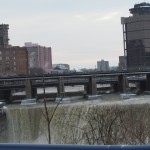 Later in the day I picked up KathyO to go out to Hamlin to have an owl watch. It was very dark and overcast so I elected to put my camera away after taking a pic of a Northern Harrier in a tree.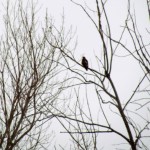 We saw 2 possibly a third Northern Harrier and 2 or 3 Short-eared Owls. It was hard to tell at times just exactly what we were seeing. A crowd of watchers gathered including-Dana,Lou,Joyce,Brian,CarolP,June Summers and her husband Drew,KathyO and yours truly MAK.
The day dawned with a pretty downtown sky on my way down 490  for a morning watch today(Sunday).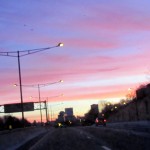 For all the searching I did yesterday and today I saw one falcon and she IS the Beautyful one! She waited until just before sundown to show herself to the MAKster and tho her back was to Joyce and I it was  sweet just to see her up on the northeast corner of the Crossroads building.
We watched her for a short while and then in a blur she shot off and straight down disappearing so fast that it would make your head spin!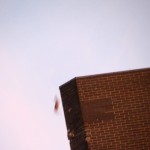 Silly to post this pic but that's just the kind of girl I am! lol When we first stopped to view Beauty I told her that she was a good mom to Callidora and that her baby girl was gone but not forgotten. And that she passed with a full crop and a healthy strong body so she knew how to take care of herself. I'd like to end my report with a couple pics of Callidora (Helga Jean for Janet) as a tribute to the first fledge family I witnessed in person. Fly free with the angels!
Callidora: The name comes from two Greek words, "Kallos" ('beauty') and Doron ('gift'). Thus, the name means "Gift of Beauty".