Morning/owl watch 1-20-12
By Rochester falcon watcher MAK
This morning I decided to just sit tight on the Broad St. Bridge and wait for Beauty to show up on Mercury as is her routine lately. Around 7:30am she flew in from the northeast landed on the money bag hand and before I could even get my hand on my camera poof! she was gone! I never found her so I trekked over to KP and couldn't find Unity either. From there I went to Irondequoit and checked out the Medley Center,bay bridge and Seabreeze with no pefa sightings whatsoever. I took some pics of a lone ice fisherman and some swans in the bay.
From there I made my way to first Summerville checking the pier,Coast guard Station and surrounding area for the Snowy Owl I call Summer. She wasn't anywhere that I could see her so I left and checked Shumway Marina on my way to Charlotte with no luck in either of those places of finding Summer or a falcon. Sheesh, what's a girl to do? Take in the other sights on the waterfront that's what!
I stopped by KP and DT before going home for a lunchbreak and unfortunately couldn't locate either Unity or Beauty. I had planned to go out to Hamlin to look for the Short-earred Owls CarolP had seen there earlier this week so  Istopped by KP one more time on my way and still no Unity. That girl sure is wandering lately! On the way to my owl prowl I saw 5 Red-tailed Hawks on interstate 390 northbound and 2 more on the Lake Ontario State Parkway westbound. Things were picking up finally! When I arrived at the location on Church Road that Carol had reported seeing the owls I immediately spotted a Northern Harrier on a pile of brush and debris.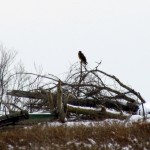 After taking that pic I looked over the field and saw white wings flying at the far end so I drove down to where some cars were pulled over to watch the show. First one Short-earred Owl then 2 and the old MAKster got her camera and started video taping the interaction between these two owls. Some hunting took place also, not only by the owls but the Northern Harrier got in on the act! It wasn't until I looked at my pics and video on my laptop that I found out I had the harrier in there as well!
CarolP joined me at this point and I stopped taking pics and video and just enjoyed the free entertainment! Joyce also showed up to watch these wonderful creatures. For a day that started out kinda slow it sure ended on a high note! I think I may be falling in love with owls as well! And so another watch ends with smiles on all of our faces!!! 🙂
Check out the links below for more from my evening owl prowl and the days sightings. Enjoy!!!
http://www.kodakgallery.com/gallery/sharing/shareRedirectSwitchBoard.jsp?token=261151454213%3A180446578