Late A.M./Early P.M. Falcon Watch – 2/7/16
By Rochester Falcon Watcher Carol P.
It was a super Sunday with temps in the 40's, bright sunshine and a beautiful blue sky.
I found no falcons at the Brighton Site (BS).  I am starting to think that the unbanded female we have been seeing there, might have started her migration back to her own nest location.  Of course, now that I've said that, someone will probably see her again.  lol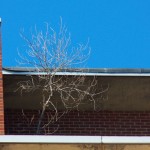 Downtown, I found Dot.ca on the Frontier Communication Tower.  From the Andrews St Bridge, I saw him fly from the platform to the top of the large white drum connected to the tower.  From the Hochstein parking lot I was just able to see the top of his head bobbing up and down.  He was eating leftovers up there.  After about 30 minutes, he stood up so that I could see his black band.
After finishing his small meal, he flew over to the northeast box, just below the platform.
Dot.ca took off heading southeast.  When he didn't return, I tried to find him.  After checking around downtown, I returned to the Andrews St Bridge.  From there I could see that DC had returned to the NE box on the Frontier Communication Tower.  I was happy to see that Beauty was now on the north side of the OCSR on the top IBeam.  All was peaceful and quiet downtown, so I continued my watch.
Both Billie and Seth were at Seneca Towers on the north end window ledge.  They both did some flying before settling.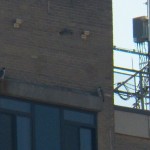 I ended my watch after finding no falcons at Medley Ctr or Russell Station.  I was happy to have found 4 of our Rochester Falcons, all doing well.