Morning Falcon Watch 2-9-16
By Rochester Falcon Watcher MAK
A duplicate of yesterday-an overcast morning with a temperature of 37 (F) 3 (C)
I didn't find Billie and Seth at Seneca Towers this morning but as I was on my way down St. Paul St. to downtown I spotted Seth on the Kodak Hawkeye plant. He was on the ring railing right behind the disheveled nest box-the roof is gone and the rest of it doesn't look very stable.
A couple minutes later Billie flew in from the north and landed near Seth-he had his back to me but Buffalo Billie was facing me.
They both scratched their head and then as Billie and I watched, Seth pooped and flew out to the north. He came right back- landing on the top of the ladder then off again to the south out of view.
When Billie didn't follow I drove around to the south side where I could see the front of her although it was from a much farther distance.
It was time to get downtown-I found Beauty on one of the northeast corners of Legacy Tower. She had her back to me and she didn't stay long either.
At 8:05am the Beautyful one pooped, stretched her wings then turned around and flew northwest.
I set out to look for Dotca (DC) but didn't find him. I ended up spotting Beauty on the top I-beam west corner of OCSR at which point I drove down to Aqueduct St. in the hole.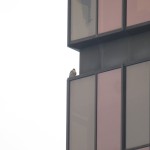 Beauty stepped around the corner out of my view when I wasn't looking-I thought she left the building. I took a one more trip around searching for DC but it wasn't meant to be today. While on the Andrews St. bridge I could see Beauty near the west corner on the northwest side of OCSR. I went down to State St. to share a few moments with her.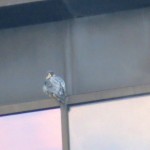 As I made my way down route 104 west I spotted a Red-tailed Hawk in a tree behind the Hampton Inn. I drove on to check the Medley Centre and after having no luck finding a falcon there I went back to see if the hawk was still there. It was, so I stopped to take some pics. The hawk was turning around when I first pulled up and then it flew out to another branch. It flew off to the southwest as I was taping it.
I ended my watch at 9am smiling from seeing the gorgeous hawk as an added bonus! 🙂
Click on the links below to watch today's videos