Sunday Falcon Watch-Beauty & Dot.ca at the TSB Nest Box – 2/21/16
By Rochester Falcon Watcher Carol P.
8:00 am – 1:00 pm
It wasn't as nice a day as yesterday, but the temps did get up into the 40's (F), cloudy and cool.
As usual, my first stop was the Brighton Site (BS).  Like the last few times I've been there, I found no falcons.  There were a few Crows on top of the building and lots of Canada Geese on the ground.
Next stop downtown.  From the Broad St Bridge, I saw Beauty at the Times Square Bldg (TSB) nest box on the southeast corner of the platform.  Dot.ca flew above the building heading north.  A few minutes later, she hopped/flew up to the top of main camera.
It was time to move down to Aqueduct St (aka "the hole").  From there I had a nice view of the Times Square Bldg and the nest box.
At 9:35 am, Dot.ca arrived and flew up to the nest box.  First to the platform and then in.  Beauty remained on top of main cam.
10:00 pm, Beauty joined Dot.ca inside the nest box.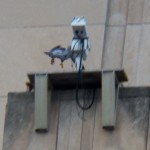 A few minutes later, Dot.ca leaves the nest box.  Dana had joined me and we watched Dot.ca fly around the east side of OCSR. He came back towards us and landed on Mercury's foot.  A few moments later, he took off again and headed for the Times Square Bldg, landing on the ledge below the northeast wing.
On Rfalconcam Archive pics, we could see that Beauty was out on the nest box perch.  Both remained where they were for over an hour.
At 11:15 am, Dot.ca took off and flew directly over us, landing on top of the Mercury statue.
All was quiet and peaceful downtown, so Dana and I decided to check out Seneca Towers and the Medley Ctr.
We decided to check out High Falls first.  There was a lot of water coming over the falls and a lot of ice.  Such a beautiful spot to visit.
As I passed Hawkeye, I spotted a Red-tailed Hawk sitting on the nest box railing.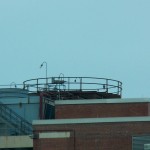 At Seneca Towers, we saw one falcon on the northeast corner.  The falcon flew off and we headed to Medley Center.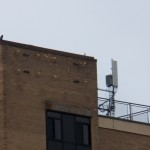 No Falcons were found at Medley Center.
Before Dana and I ended our watch, we wanted to check out Seneca Towers one more time from Maplewood Park.  As we were driving there, we spotted a falcon on the structure below the bridge on the south side.  With all the snow we had this past week, there was no where to park close to the bridge.  So we parked at Maplewood Park and walked back on the sidewalk which was not plowed.  The snow was about a foot deep.  But we were determined.  lol
The falcon had a black over green band, but I was not able to read the #'s to positively ID it as Billie or Seth.  Based on size, we thought it was probably Billie.  She was in hunt mode, keeping an eye on everything below her and in the trees along the river. She took off and flew along the tree line, heading south.  She then circled back, flew over the bridge, back towards us and then around the south end of Seneca Towers.  We waited to see if she would return, but she did not.  It was time to end our watch.
I'll leave you with a few pictures of Beauty and Dot.ca's visit to the Times Square Bldg nest box, captured by our Rfalconcam cameras.