Syracuse Falcon Watch – Pigott and George! – 4/6/16
By Rochester Falcon Watcher Carol P.
It's been awhile since I've been to Syracuse to visit with our girl Pigott and her mate George.  Since it's been quiet here in Rochester, fellow falcon watcher Lisa McK and I decided to check on them!
We left Rochester just before 8:00 am.  It was an overcast day and it was cold.  A perfect day for a road trip.  🙂
Usually we visit Syracuse on a weekend, so it was a little more busy than we were used to.  At first, we could not find any falcons.  Finally after driving around the area, we spotted a falcon on the corner of the railing on the Verizon Bldg.  Based on size we believed that this was a male.
Before I go on, we are assuming that we were watching Pigott and George.  We were never close enough to see bands to get a positive ID.
We found a spot to park where we could see both the nest box on the State Bldg and George on the Verizon Bldg.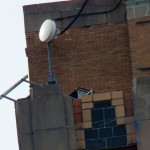 We could not see into the nest box to see if Pigott was there.  It wasn't long before George took off and flew over us, landing on the Bank of America Bldg.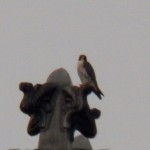 George was looking every which-way.  He was definitely in hunt mode.  He took off heading towards Rte 690 behind us and stooped!  Pigeons scattered in all directions.  George did not come back into view and we thought his hunt had been successful.
About 10 minutes later, we heard a Peregrine loudly calling above us.  It was George and he was carrying food.  Would Pigott appear? Yes!  She came flying out of the nest box and joined George.  She quickly caught up to him and went talons up.  A classic food transfer!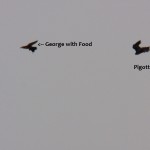 George flew up to the nest box and Pigott took her meal to a corner of Syracuse's City Hall.
Now we knew.  Pigott and George were incubating eggs in their nest box on the State Bldg.  Since their cameras are off, there is no way to know how many eggs they may have.
After finishing her meal, she cached the remainder on the Verizon sign.  She then flew up to the same railing we had first seen George.
Pigott then took off and flew back to the State Bldg, landing near the nest box.
Pigott remained there for awhile, preening and keeping watch.  She then flew down to the nest box.  There was a changing of the guard as George flew out.
George settled on the State Bldg, close to where Pigott had been.
We left them for awhile and returned to find George back on the Bank of America.
This was our view of the State Bldg.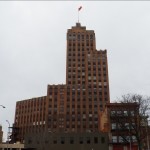 Lisa and I were very happy to have seen both Pigott and George.  To verify that, based on behavior, they were incubating eggs in their nest box.  There had been reports of a territorial battle recently.  All was quiet and peaceful.
On our way home, we took the long way to Montezuma and saw many different birds and critters.  Including a beautiful male Harrier aka Gray Ghost, hunting over a farmer's field.  Also an Osprey on a nest and a couple of Bald Eagles.  Oh, and this Groundhog, aka swear word.  lol