Sunday Falcon Watch – 3rd Falcon Downtown – 4/10/16
By Rochester Falcon Watcher Carol P.
I arrived downtown at 8:00 am and quickly found a falcon on the south side of OCSR's top IBeam.  It turned out to be Beauty, thanks to a heads up from on line watcher Donna that Dot.ca was inside the nest box on the eggs.  My watch started with bright sunshine and a very cold 25 degrees (F).  At 8:20 am, Beauty took off and slowly flew around to the north side of OCSR.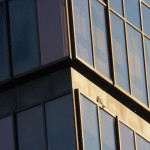 I waited to see if she would return.  When she didn't, I drove over to the Andrews St Bridge (ASB).  From there I spotted her on the Ellwanger and Barry Bldg on State St.  I believe she was caching a meal there.  I drove over for a closer look, but she took off before I could take a picture.  Beauty headed back towards OCSR.
Back on the Broad St Bridge (BSB).  From there I could see that Beauty had returned to the top IBeam on OCSR (8:40 am). About 10 minutes later, she took off and flew up to the nest box.  Very quickly, Dot.ca flew out and took her place on OCSR, 2nd IBeam down.
Dot.ca took off and took the same route that Beauty had earlier, slowly flying around the east end of OCSR to the north side.  I again waited to see if he would return.  I headed back over to the ASB and found Dot.ca on the Ellwanger and Barry Bldg.  This time I made it over to State St in time to see that he was eating Pigeon leftovers.  Probably what Beauty cached there.
Dot.ca finished his meal and headed back towards OCSR.  From the Broad St Bridge, I found him on the top Ibeam of OCSR.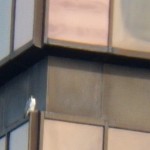 Dot.ca was in hunt mode, scanning the sky to the south.  At 10:00 am, he took off and went on a hunt over the river.  Pigeons scattered everywhere.  He was unsuccessful and returned to OCSR.  Still keeping an eye on the Pigeons locals below him.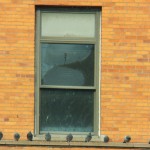 At 10:40 am, Dot.ca took off, this time heading west.  The search was on.  From the ASB, I saw a falcon on the Frontier Communication Tower's (FCT) northeast corner box.  Based on size, I believe that it was Dot.ca.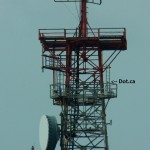 While I was driving towards FCT, Dot.ca took off, but I didn't see which direction he took.
Fellow Falcon Watcher Dana had texted me, letting me know that she was heading over to Seneca Towers.  I decided it was time to check on Billie and Seth.  As I was approaching Kodak Office, I spotted a falcon up on the northeast corner of the launch pad.  Hmmm, that was unusual.  I hadn't seen Beauty or Dot.ca over here in quite awhile.  It looked like Dot.ca.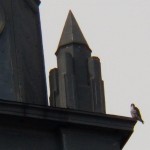 I drove further down and parked in front of the RG&E BeeBee Station.  From there I spotted another falcon on the northeast corner of Kodak Office's Bldg 20.  A quick check to make sure Dot.ca was still above on the launch pad.  Yep!  Was this Beauty? I texted out a question, was Beauty still on the eggs?  Immediately Lisa and Pat got back to me.  Yes, Beauty was still in the nest box!  This was a 3rd falcon.  Clouds had moved in and the lighting was horrible.  My big lens friend Dana was on her way.  🙂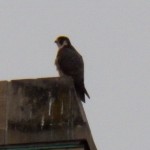 Based on size, I was pretty sure this was a female.  She stretched and I saw a hint of red on her band.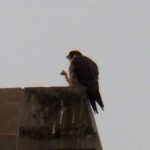 Dot.ca was gone.  Pat texted that he was now in the nest box on the eggs and Beauty was gone.  Dana had arrived.
At noon, a falcon flew over high above, circled and headed back to the south.  The falcon on Bldg 20 moved down the ledge and started to vocalize loudly.  When she left the corner, a Crow flew down and landed there.  There was a bit of food there and the Crow took some of it.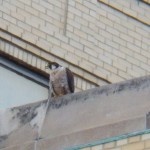 She continued to vocalize and then moved back out to the corner.  From there she took off heading south, low in front of the buildings.  Dana and I met up and discussed what we had seen.  We were fairly sure this was a young female.  She had a lot of adult plumage, but you could still see a juvie brown feather here and there.  It reminded me of the first time we saw Rhea Mae at the Sheraton, adult and juvie plumage mixed together.  We were also pretty sure she had red tape over her USFW silver band and the other band was black/black.
Dana checked her pictures last night and was able to verify that we were correct.  But, due to lighting, she was unable to see any numbers/letters on the black/black band.  This was the same band color combination that was on the intruding female at the Buffalo, NY, Statler nest box on April 4th.  Could this be Tessa, banded in 2014 at Mississauga, Holcim, daughter of Caspian and the late Storm?  I'm just really sorry we couldn't have verified her band #'s.
The good news is, if this was Tessa, she survived her fight at the Statler nest box.  She did not look like she was injured.
Here is a collage of pictures of the 3rd falcon that Dana took yesterday.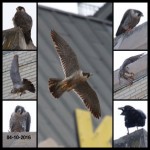 Dana and I tried to find the 3rd falcon, but had no luck.  We returned to the Broad St Bridge and found Dot.ca on the south side of OCSR on the top IBeam.  Beauty was back in the nest box on the eggs.
All was quiet and peaceful downtown.  Hopefully the other female we saw at Kodak Office will moved on and leave our downtown pair to their egg sitting.
Dana and I continued our falcon watch at Seneca Towers.  We parked in our usual spot across the river from the high rise apartments.  At first we saw no falcons, but then we heard vocalizations.  There was now a falcon on the bridge.  I'm pretty sure that it was Billie.  Fellow watcher Pat joined us.
All was quiet and peaceful at Seneca Towers.  It was time to end my Sunday Falcon Watch!
A special thanks to Donna, Lisa and Pat for their help!