An afternoon spent with CPF birds of prey
By Rochester falcon watcher MAK
A bunch of us watchers were invited to go to the Canadian Peregrine Foundations(CPF) barn for a special visit on Saturday afternoon. The weather was a bit dicey when we left Rochester with slippery roads and multiple accidents but once we got to the thruway in Leroy it was smooth sailing. CPF member Tracy Simpson had sent me a message that she had to do some snow plowing but that Big Frank would be at the barn to meet us until she got there.  While we waited I took some pics of the classroom,flight room and  some eggs they had in a refrigerator. The small ones are Kestrel eggs and the large are Great-horned Owl eggs which seemed larger than chicken eggs.
When Tracy arrived a couple hours after we got there she brought in a young female Peregrine Falcon named Cheyenne. What a beauty and all 7 of us watchers got to hold her! FYI- Lisa was very sick and did not want her picture taken so when she was holding Cheyenne I took only the birds pic. Just so you know!
She actually hacked up a pellet while I was holding her and I caught it smack dab in the center of my palm! It was very warm and smelly but I was lovin' it!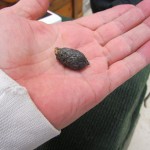 Next up Tracy brought in Oscar the 11 year old male Peregrine Falcon. And what a handsome lad he is with his light gray wings. You could definitely see the size difference between he and Cheyenne.
Last but not least the Great-horned Owl Alex was presented to us. She was a bit in the mood for some love and did a lot of vocalizing and struttin' her stuff so to speak! Again Tracy let each and every one of us hold her. Just look at the size of those powerful feet! I could not believe the grip this magnificent bird of prey had on my gloved hand. I certainly would not want to mess with one of these guys. They are the arch enemy of the Peregrine.
Also at the barn we saw a Bald Eagle,Harris Hawk and a very vocal Gyrfalcon named Remington. Mark Nash came by and when we were all done the bunch of us went out to dinner. It was great fun and an experience I will NEVER forget thanks to our good friends at CPF.
Sunday we had planned to do some falcon watching before returning to the states but it wasn't in the cards for Susan, Joyce and I. We had some issues and were only able to get to the Harlequin site where Quest and Kendal were nowhere to be found. Lisa,Carol,Dana and Kathy joined us after they had seen Linn and Reuben and O'Connor and Hurricane at their respective sites. The 4 of them also saw 1 falcon at the Burlington bridge. We did get to enjoy a pair of Red-tail Hawks that were flying above the Harlequin building and surrounding area. Mark Nash met us there briefly and gave each of us a hand painted porcelain Peregrine Falcon with a hole drilled through the middle so we could put it on a necklace. Very cool stuff! I can't wait to go back to Canada and see our CPF friends and their falcons! Thank you so much for your kindness and for the opportunity of a lifetime! Below I have links to an album from our visit and a couple videos.  Enjoy and I know they will make you smile as they did me! 🙂
http://pix.kg/p/427783484213%3A264781643/scl