Falcon watch 2-20-12
By Rochester falcon watcher MAK
KathyO picked me up just before 9:00 am for a falcon watch. When we arrived on the Broad St. bridge she spotted a falcon on the top ibeam southwest side of the OCSR building. We went to the parking lot by Aqueduct street for a closer look. Soon there after it flew off heading straight toward Mercury
Soon there after it flew off heading straight toward Mercury behind the Thompson Reuters building where we couldn't see if it landed there or not. I told Kathy I just know it's on that statue and sure enough when we got back up on the bridge I saw it on the money bag hand !!! This was the Beautyful ones' spot and needless to say I was not happy to see this. After spitting and sputtering about it I took some pics and was able to see the purple band on the right leg telling me that it was Unity.
It seemed like she looked right straight at me to say this is my territory now. And I looked back at her and said a few things myself. I like Unity,I think she's a gorgeous pefa but Mercury is Beautys' spot and this has all happened a little too fast for me. I accept what nature has to offer but it doesn't mean I like it. Life in the natural world and in ours can be so cruel sometimes but we must all move forward and so a lesson is learned from our feathered friends. A hard one!
So onward we go to about 20 minutes later Unity flew off Mercury heading west behind buildings and out of sight. We left to go find her and ran across Brian near the Library. He told us to go look and he would stay on the bridge waiting for a falcon to show up. Having no luck we returned to the bridge where Dana had joined Brian. Half hour later a falcon flew over and landed on the southwest corner of the Hyatt Hotel.
Brian was 99% sure this was the male and it appeared to have a full crop! Dan joined us just before noon and 15 minutes later the tiercel flew off to the west and landed on the east side of the jail roof briefly and left. It would be an hour and a half before we saw another falcon and that falcon would be Unity under the northeast wing. Joyce joined the watch at this point. Unity was walking and bowing and chupping when Kathy spotted the tiercel on the ring of the southwest wing of the Times Square building.
Dana rejoined us as Unity flew over to Widows Walk and the male turned to look at her there. Kathy and I next saw Unity fly up to the ledge between the northeast and southeast wings one level above the nest box as shown on the next pic.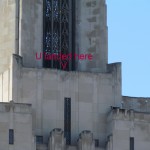 She flew off soon after going north and the tiercel went right after her. Kathy and I went searching as did Joyce while Dana left to go home. We found Unity on the Xerox roof southwest corner and the male was also on the roof directly above the 5th column south side where, you guessed it, Beauty liked to roost!
After only a few minutes they both flew back toward the river and Times Square. When we returned to the Broad St. bridge Unity was on the main cam and Donna reported the male was on camera 4 after she went into the nest box. Kathy and I saw Unity fly from there over to the southwest corner of the Hyatt hotel. They both ended up flying northwest out of view and we were unable to find them again before calling it a watch. It was quite a long day for my knee and it was ready for some ice and elevation. Below is the link for a Kodak album for more pics of the day. I bid you a good nite and keep smiling! 🙂
http://pix.kg/p/541161584213%3A1976033416/scl