Falcon watch 2-23-12
By Rochester falcon watcher MAK
My good friend and fellow watcher Lynda picked me up about 9:00am for a falcon watch. She brought muffins and I made coffee for us to take downtown. We first parked on the Broad St. bridge and waited to see if Unity or the unbanded male Mr.W as named by Brian would show up. We ate our muffins as we sat and watched. After a while we decided to take a ride around stopping on the Andrews St. bridge facing east I spotted Unity on the railing of a building on the east side of the river between the Chase building to the right and the apartment complex to the left.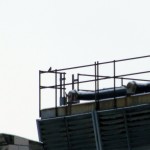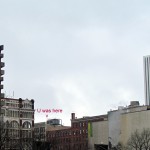 Click on pics for full version
We decided we had to find this building so we could put a name on it. As we were driving over in that direction we spotted Unity stooping and then we lost her. We got a little confused as to the location of this building and ended up at Liberty Pole Way naming it the Temple building. After driving around in every direction we were sure this was NOT the correct building. We then drove back toward Andrews St. and St. Paul. We found it at the intersection of Mortimer St. and St. Paul. I don't know if it's considered the Cox building which is red brick in front of it(they are connected) but here are a couple pics to show what I mean.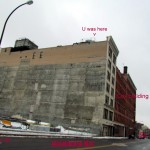 We drove around some more looking for her with no luck so we went on a bathroom break finding a nice little restaurant on Mill St. at High Falls named Fina's. We decided it was close enough to lunch time and had a sandwich there. We gave it a good review and off we went back to the streets of Rachacha! After a trip around downtown we parked on the Broad St. bridge facing the Times Square building. Pigeons were on the move so we were looking for a falcon amongst them when Lynda spotted Unity flying through from north to south (TS toward D&C building) and behind the Blue Cross Arena out of sight. We went down and parked by the stairs where we call Falcon central  at this point. A minute or so later we saw her flying back from that direction with prey in her talons landing on the northeast corner of the Phillips building(across Exchange street from TS).
I think this was a resting spot for she was looking all around and not letting go of her prey like she was deciding where to take it next. Sure enough she turned around and flew off with it heading south over the Democrat and Chronicle building and along the north side of the jail roof  where we lost sight of her.
I told Lynda we should drive down Broad St. to Plymouth Ave. so we could check the jail roof and surrounding area. Lynda found her on the southeast corner of a building next to the new crime lab. As we did a u-turn to look at Unity she flew up to a railing on the same building.
She had cached her tasty treat here and soon flew off to the north and out of our field of view.
We drove by the front of the building Unity was on and it said the Terminal building but it was brick and she was on a concrete building right behind it. This was the last we saw of this big girl before calling it a watch. Lynda had to get going. After I got home I called another watcher and good friend Debbie Harrington hoping she could tell me the name of the building Unity was last seen on cuz I knew she worked in one the buildings near there. As it turns out it was the very building she works in and it's called the Ebernezer Watts building. I had to do more investigating for this report than any other that comes to mind. We do have to get the facts straight! Thank you to Lynda and Debbie, you both had a hand in making this watcher smile today! 🙂