Morning Fledge Watch 7-6-16
By Rochester Falcon Watcher MAK
The temperature at 5:30am when I started my watch was 65 (F) 18 (C) as the sun came up. When I ended my watch at 12:15pm it was clouding up with a temperature of 83 (F) 28 (C)
As I started my watch before sunrise I didn't see any falcons at Seneca Towers. However, I have seen both juvies flying past my window and the west side balcony since I got home from Arkansas. One of them was nice enough to land on the southwest corner so I could take some pics.
Make sure to click on pics to see full version
When I arrived downtown I went directly to the Court St. Bridge (CSB) where I knew Dan would be sitting in his chair. Boy was it nice to see that big, beautiful smile again! He reported that an adult had dropped off a package under the northeast wing of Times Square (TSB) and that all four juvies were up there eating. I could only see 2 juvies. Beauty was under the southwest wing at the time I arrived. A Great Blue Heron (GBH) came flying and landed down on the river rocks
The Beautyful one flew off to the east over the river and behind the Radisson Hotel-soon after one of the juvies followed her. Next thing we knew there were at least 3 falcons flying around Xerox. A juvie landed on the roof lights and on the southwest corner briefly. Carol joined us a little after 6am.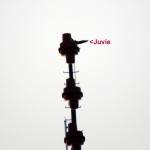 Beauty landed on Legacy Tower for a few minutes and when they all left our view. 2 juvies came flying in and landed on the north side roof of the Blue Cross Blue Shield (BCBS) building while another flew south- then the 2 took off to the south as well. Another GBH landed on the wall behind the Rundell Library for a minute.
Beauty showed up on the Mercury money bag (MMB) then flew east again as Dan left for his nest about 7am. Beauty returned to the MMB and at that point Carol and I decided to go searching. I found a juvie on the east side of Legacy Tower (LT) from Elm St. then I lost sight of it. Suddenly 2 juvies came zooming in quite vocally with one landing on the northeast corner of LT and started mantling something.
She turned around and went further in on the ledge to start eating what she had. I left after a few minutes to head to the hole where Carol had a juvie on Mercury's head and Dot.ca (DC) on the west corner top I-beam of OCSR. As I crossed South Ave. onto the Broad St. bridge (BSB) I could see a juvie on the First Niagara Bank chimney. However, we couldn't see her from the hole.
A juvie appeared under the northwest wing and we believe it was Leo on the lower roof southeast corner of Widows Walk (WW). He went back on the ledge where we could only see his head now and again-it appeared that he was eating and the wing girl was watching him. Pat stopped by to welcome me back on her way in to work at Thomson Reuters.
That was all she wrote-I left to see Bella (Jeannes' dog whom I walk for her) and when I came back through downtown around noon there wasn't a falcon in sight. I didn't see any at Seneca Towers either- most likely all were taking shelter in shaded areas from the mid-day heat. I ended my watch at 12:15pm with a very big smile after 4 and a half months away from our beloved Rochester Peregrine Falcons! 🙂
Click on the links below to see a couple videos