Falcon/Snowy Owl Watch with Jeanne and Bella 12-17-16
By Rochester Falcon Watcher MAK
It was 22 (F) -6 (C) degrees and snow covered when I set out this morning at 9am and when I ended my watch it was 35 (F) 2 (C) with overcast conditions throughout
I picked up fellow falcon watcher and good friend, Jeanne and her dog Bella around 9:30am to go look for Snowy Owls along the Lake Ontario shoreline. We made stops in Charlotte and Summerville to see if maybe Genesee was around with no luck. In Ontario Beach Park we watched as some gulls were feeding on berries in a tree. That was something neither one of us had ever seen before.
Make sure to click on the pics to see the full version
We also checked Buck Pond, Long Pond, Cranberry Pond and Braddock Bay with no sightings.We also made stops at the Medley Center Mall,  Seabreeze and the Newport Marina to check the Irondequoit Bay. We saw 4 deer, a couple Black-backed Gulls, Mute Swans, various ducks and geese but no Snowy Owls.
At Seneca Towers we found Billie on the northwest corner and Seth on the west side railing before he took off and didn't come back. They both had a full crop with Buffalo Billie looking like she swallowed a baseball! lol
Next stop was downtown where we spotted Beauty on the northeast corner of the Crossroads building from the Andrews St. bridge.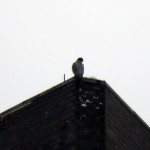 Unfortunately, we didn't find Dot.ca (DC) which might explain why the Beautyful one was looking around from her high perch. Hmm, could he have been over at the Brighton Site with the wintering female visitor !? I'm sure he knows she's there.
I didn't check there as they don't plow it very good and I didn't want to get stuck in the snow. We've gotten close to a foot of snow here in the last couple days. After I took Jeanne and Bella home I checked downtown again to find Beauty still on Crossroads. While checking the OCSR elevator shaft for DC she took off and ended up on the Mercury money bag where I found her from the hole (Aqueduct St.). She had her back to me and soon flew off heading east and quickly left my field of vision behind the Thomson Reuters building. The Broad St. bridge is still under construction so we can't park on it to observe the falcons.
Finally, I ended my watch at 4:30pm with Billie still on the northwest corner of Seneca Towers and Seth had not returned. Even though we didn't see any owls Jeanne, Bella and I had a nice day with lots of smiles! 🙂
Click on the link below to view a video of Beauty watching over her territory