A Christmas Eve Morning Falcon Watch – 12/24/16
By Rochester Falcon Watcher Carol P.
My Christmas Eve morning watch started out with temps in the low 40's and light rain.  The sun never did make an appearance while I was out.
I started my watch at the Charlotte/Summerville area, hoping to find Genesee or maybe a Snowy Owl.  No luck seeing either of them.  The Port of Rochester Pigeons were relaxed and the ducks were sleeping.  All was quiet here.
Nearby there was a Christmas Tree with a star at the top of it.
At Seneca Towers I found both Billie and Seth at home.  Billie was on the north end window ledge and Seth was on the northwest corner.
As I drove towards downtown Rochester, I checked out the old Hawkeye plant.  I could not see any falcons there.
Downtown, I found both Beauty and Dot.ca on the OCSR.  Dot.ca was inside the elevator shaft on the south side ledge and Beauty was on the north side top IBeam.
My last stop was the Brighton Site (BS).  I didn't trust the driveway due to snow/ice, so I headed over to the next street where I had a good view of the east side of the building.  I found a falcon on the tree ledge.  I was too far away to get a good look, but I'm pretty sure it was the unbanded female we have been seeing there.
All was peaceful and quiet.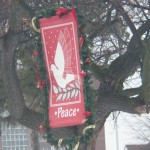 I want to wish all of you a very Merry Christmas!  Here are some beautiful Christmas lights I've seen over the past few days.  Enjoy!
Even the downtown buildings are very festive!