Christmas Morning Watch 12-25-16
By Rochester Falcon Watcher MAK
It was overcast with light misty rain at times and a temperature of 37 (F) 3 (C) degrees
Merry Christmas from our Rochester Peregrine Falcons and myself!
I started my watch about 10 minutes before sunrise at Seneca Towers (ST) but nobody was home so I drove to downtown. From the hole (Aqueduct St.) I spotted both Beauty and Dot,ca (DC) on the top I-beam southeast side of OCSR. She was near the south corner and he was at the other end nearer to the elevator shaft eating. There were white down feathers all along the ledge surrounding him.
When I wasn't paying attention they both left OCSR and flew over to the Mercury statue. I watched DC land on the money bag (MMB) while she was already on the base eating what I assume were cached leftovers as she didn't spend much time chowing down.
Make sure to click on pics to see full version
DC was quite content to watch the Beautyful one from above with his very full crop. She soon went out of view before I realized she had flown off back over to OCSR on the same spot she had been earlier.
Beauty didn't stay there for long when she left and flew to the MMB to replace DC who had flown over to the Times Square building (TSB) under the southeast wing.
Beauty was on the hunt as she flew off to chase pigeons over the river near the Blue Cross Arena. She was unsuccessful and returned to the MMB as DC kept an eye on her.
I decided to check out the Genesee River scene from the Court St. bridge. Gulls were flying and ducks were swimming as I taped a couple videos of them. Beauty could be seen still on Mercury and DC on TSB from there as I left them to check the Brighton site (BS).
I had no luck finding our visiting winter falcon friend but on the way over I saw a juvenile Red-tailed Hawk land on a South Avenue light pole.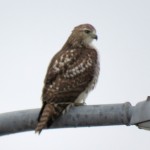 I was unable to find any falcons in Charlotte/Summerville or Irondequoit today. When I got home to ST I found only Billie on the south end top window ledge with a full crop too! She was busy looking over her surroundings perhaps waiting for Seth to show up as I was.
Seth never joined us so I ended my watch at 11am and left Buffalo Billie to relax and digest her BIG Christmas breakfast. So glad to have seen falcons this morning-no other gift makes me smile more! 🙂
Click on the links below to see today's videos