Happy New Year Watchers Toast – Falcon Watch – 1/1/17
By Rochester Falcon Watcher Carol P.
Today at 11:00 am, the Rochester Falcon Watchers gathered on Broad St in front of the Blue Cross Arena (Rochester War Memorial) for our annual toast to the Rochester Falcons.  Watchers included Dan, Kathy O, Lisa McK, Jeanne, Shaky, Carrie, Lynda, Tim, Larry (with Zeke), MAK (with Bella), Joyce, Pat (with her falcon puppet friend) and me, Carol P.  Missing today were Brian H, Dana and Lou, who were unable to make it but were there in spirit.
We were all very thankful for a successful 2016 falcon season with four successful fledges, Matilda, Aria, Lilac and Leo.  Our toast was to a success 2017 for our Rochester Falcons, Beauty, Dot.ca, Billie and Seth!  We also hoped to see more of our young falcons in the coming years.  Seeing Genesee was such a treat!
Before the toast, I was able to find both Beauty and Dot.ca on the Ellwanger and Barry Bldg.  By the time I was able to get a closer look, they were both gone.
Here are some pictures from this year's Watchers Toast.
Here's one taken by our Rfalconcam cameras from the nest box on the Times Square Bldg.  Shaky was there to make sure that the rest of our falcon fans around the world could watch our toast to the falcons.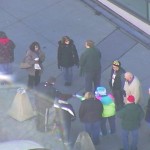 After the toast was over and everyone left, I drove around downtown before heading home.  I found both Beauty and Dot.ca on the OCSR.  Dot.ca was inside the elevator shaft and Beauty was on the top Ibeam on the north side.  I also ran into my friend and fellow watcher Kelly.  It was so nice to see her!  🙂
While Kelly and I were chatting, Beauty took off and landed on the Time Square Bldg on the ledge under the southeast wing.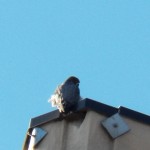 It was wonderful seeing all those that gathered for the toast today and Beauty & Dot.ca.  Happy New Year everyone!