Short but sweet Falcon Watch 1-9-17
By Rochester Falcon Watcher MAK
It was 20 (F) -7 (C) degrees with a few snowflakes  in the air under an overcast sky
I dedicate this Peregrine Falcon Watch report to the late, great Genesee-son of Beauty and Dot.ca from the year 2015
I didn't see Billie or Seth at Seneca Towers when I left home this morning around 8am. After an early appointment and running some errands I made my way downtown to check on our falcons. My first stop was the Andrews St. bridge where I spotted Dot.ca (DC) on the northeast corner of the Crossroads building with his back to me. Right across from him on the top I-beam northwest side of OCSR Beauty was perched and she too, had her back to me.
I then drove over to State St. across from the Holiday Inn for a closer view of them albeit was just a side view. They both were alert, looking around their falcon world.
Please click on any pics to see a full version of them
DC pooped a couple times and after the second one he quickly jumped down off the edge and turned around as the Beautyful one came flying in and knocked him off the building. He flew off around the north end of OCSR and disappeared to the east side where I figured he went up in the elevator shaft. Beauty started nibbling on some leftovers that were up there on the Crossroads roof.
There wasn't much more than a few bites left as Beauty stopped eating a couple minutes later. At that point I drove over to Bragdon Place by the north end of the Radisson Hotel where I did in fact, find DC on the south side ledge of the OCSR elevator shaft. I could also see Beauty from there as she remained perched on Crossroads.
I left them as they were to go check the Brighton Site (BS) and to walk Bella. No falcons in sight there and when I returned to downtown Beauty was nowhere to be found and DC was back on the northeast corner of Crossroads.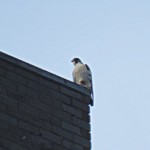 I called it a watch and headed home, but still there was no sign of Billie or Seth when I got there. I ended my watch at 3pm smiling after seeing our downtown pair doing well! 🙂
Click on the links below to see today's videos