Afternoon Falcon Watch 1-23-17
By Rochester Falcon Watcher MAK
It was a balmy 44 (F) 7 (C) degrees with a slight breeze and overcast skies
I started my watch at Seneca Towers (ST) with Seth. He was on the south end of the building on the top window ledge and he had a very full crop.
Make sure to click the pics to see the full version
I didn't find Billie and so I moved on to downtown where I stopped on the Andrews St. bridge. From there, I could see Beauty on the top I-beam of OCSR west corner and Dot.ca (DC) further down closer to the north corner.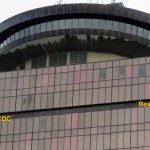 A couple minutes later the Beautyful one flew off to the southwest and DC followed right behind her.
They disappeared behind the Crossroads building and when I caught up I spotted DC on the Mercury money bag (MMB)  from the hole. From there I could clearly see that he had food in his crop.
I left for the Brighton site (BS) after unsuccessfully finding where Beauty had gone. There were no falcons at BS when I checked. After walking Bella I returned to downtown and found Beauty back on the top I-beam west corner of OCSR. I watched her from the hole first and then drove around the corner to Graves St. where I could share space with her from a closer place albeit a bad angle.
I left her to it so I could look for DC before going home. From Bragdon Place at the north end of the Radisson Hotel I found him in the OCSR elevator shaft on the south side ledge.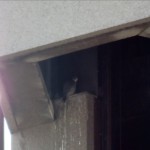 And that's all she wrote as nobody was home at Seneca Towers. I ended my watch with a smile after seeing 3 of our 4 resident Rochester Peregrine Falcons! 🙂
Click on the links below to see today's videos