Saturday Falcon Watch Pictures – 1/21/17
By Rochester Falcon Watcher Carol P.
Just wanted to catch up and share some pictures I took of Beauty and Dot.ca this past Saturday.  They were both out and about, hunting and sharing a meal.  Here are some pictures I took during my watch.  Enjoy!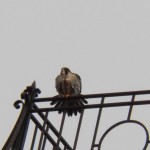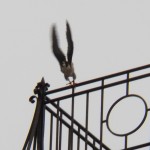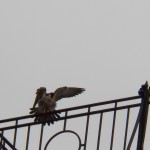 <— Beauty hunting off Widows Walk.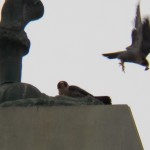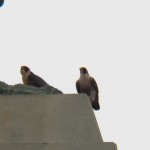 <— Beauty & Dot.ca sharing a meal on base of Mercury.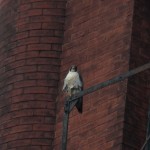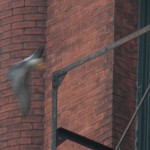 <— Dot.ca on Wilder Bldg Fire Escape.
Earlier on Saturday, I also saw both Billie and Seth on the west side railing at Seneca Tower.  I was driving by and did not get any pictures.  But, I did see all 4 Rochester resident falcons that day, which made it a very good day!