Monday afternoon Falcon Watch 2-13-17
By Rochester Falcon Watcher MAK
It was quite blustery and overcast with a temperature of 28 (F) -2 (C)
I spent more time looking for falcons today than actually watching them. There was no sign of Billie or Seth when I left or when I returned home to Seneca Towers. I found Beauty from the hole on the top I-beam southeast side of OCSR on my way through downtown to go walk Bella. She flew off when I was tweeting so I moved on.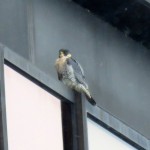 After walking my canine buddy, Bella I went in search of the 2 falcons that have been seen in Brighton. No luck finding them at the Brighton Site (BS), DSS or the apartment building on Plymouth Ave. at Genesee St. It's called Brooks Crossing on google maps but the stone wall out front of it says Brooks Landing. I returned to downtown hoping to find Dot.ca (DC) this time and I wasn't disappointed. I spotted both he and the Beautyful one on OCSR, top I-Beam southeast side.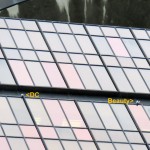 I watched them first from the hole, then over on Graves St. next to Aqueduct Park and finally from the Radisson Hotel by Main St.
They both flew off to the west out of view and a few seconds later Beauty returned to circle above the river and Radisson Hotel a few times before settling on the same I-beam of OCSR she had just vacated. Soon after, DC joined his Beautyful mate landing just 3 windows across from her.
DC was napping on and off when I left them.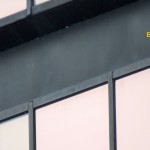 <Click it to see the full version
When I got home and didn't find Billie or Seth I took a ride down to Seneca Park to check out the water birds to kill some time, hoping they would be there when I returned but no such luck.
I ended my watch around 3:30pm after sharing space with our downtown pair of Peregrine Falcons, Beauty and DC who always put a smile on my face! 🙂
Click on the links below to check out today's videos