Falcon Watch with KathyO 2-23-17
By Rochester Falcon Watcher MAK
The weather was delightfully warm and windy a February day in Rochester that was a mild 63 (F) 17 (C) degrees
KathyO picked me up for a falcon watch late this afternoon. Billie and Seth were nowhere to be found at Seneca Towers when we left for downtown. We first checked the north end of downtown from the Andrews St. bridge. We saw nothing from there so we headed for the hole (Aqueduct St.). We spotted Beauty immediately on the top I-beam of OCSR near the south corner.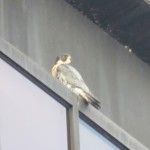 I then turned my head and spotted Dot.ca (DC) on the deck of the Times Square building nest box. He was on the southeast corner  and kept looking toward the nest box and then over at the Beautyful one-switching back and forth. It was pretty comical really-he always cracks me up.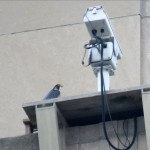 About a half hour of that until Beauty decided to tease her little man when she flew over to the TSB above him and then went east toward the river out of view. 5 minutes later DC flew over to OCSR and landed where Beauty had been on the top I-beam and she ended up on the deck where he had just been. Falcon games are a lot of fun to watch!
20 minutes of watching each other then Beauty went in the nest box while DC flew to the west in a hurry past Widows Walk out of view for a minute or so before returning to Times Square to join Beauty at the nest box. They were together for about 10 minutes when DC flew to the Mercury money bag as his mate remained at the nest box.
DC was fidgeting a lot as he fought the 15-20 MPH winds up there. Half hour after he arrived on Mercury he flew back to the nest box and some conversations with Beauty until she went up to cam 1 (pan cam). DC ended up back on OCSR and that's where Kathy and I left downtown. When I got home to Seneca Towers there was a falcon (I believe Seth) on the top window ledge north end of the building. As always, our downtown Rochester pair of Peregrine Falcons put a smile on this watchers' face! 🙂