Falcon watch 3-2-12
By Rochester falcon watcher MAK
I arrived downtown about 6:30am today and I left about 6:10 pm. I wanted to make sure if there was any trouble someone was around to help since Archer is due back soon. The day started dark and dreary but the sun eventually shone. Half  hour  into my watch I spotted a falcon up on the roof of Xerox west side. I grabbed my camera and as I clicked the falcon flew off.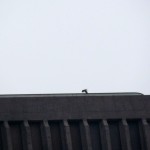 Another 30 minutes passed before I saw Unity on the money bag hand of Mercury. DebbieH had joined me on her way to work and was thrilled to see a falcon.
I had an appointment in the Sibley building which took longer than expected so when I was done I grabbed some lunch. On my way down Lake Ave. I saw pigeons scattering in every direction so I pulled onto White street and sure enough I spotted a falcon flying above the frenzied Rock Doves. It never stooped on them but you'd never know from the way they were carrying on. I lost sight of it and continued on to the downtown area. On Broad St. bridge I noticed Mr on top of the nest box for a brief moment and then he was gone. I then saw Unity on the money bag hand of Mercury again.
The pic above of Unity is her watching Mr approach and then he flew by her with blazing speed almost touching her. She flew to the nestbox and he landed on the money bag hand. A first for him that I know of.
DebbieH walked over for her lunch break to see both falcons before Mr flew to the east in a big hurry. Unity left the nest box and followed him. I think they may have been chasing a hawk out of the territory for when I drove over to the area where they were headed I found a hawk flying after some pigeons and landing on the roof of a building.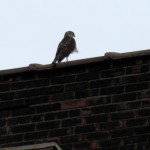 When I returned to the bridge  I saw a falcon next to the main cam which Donna told me was the Mr and then he vanished.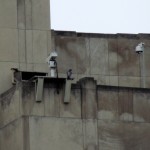 It would be 2 hours before I had another sighting when I spotted Unity flying above and around the OCSR building 2 or 3 times before landing under the northeast wing of the Times Square building. She left very soon after and I sat another hour and a half with no pefa to share space with until Unity showed up at the nest box for the last visit of the day there.
I put my camera away for the daylight was fading fast. Unity flew out and joined Mr above Xerox where they flew above and around it several times landing on the roof near the southwest corner. I walked down by the library to see them better and then one of them flew off circling several more times before landing on the northwest corner. This falcon flew off across the river and circled above the OCSR building going higher and higher until I lost sight of it. The time was 5:30pm and it would be my last look. I was about to call it a watch when KathyO showed up. We sat in the van and chatted for a while and then we went our separate ways. Ya know what makes me smile? A whole day of falcon watching!!! 🙂
To see more pics of the day click on the link below and enjoy!
http://pix.kg/p/879151694213%3A655454606/scl