Falcon watch 3-3-12
By Rochester falcon watcher MAK
When I first arrived downtown somewhere between 6:30 and 7:00am I received a text from Donna that Unity had visited the nest box around 6:10am. So she had snuck in before ol' MAK got there! Must have been the strong winds that blew her in! lol About an hour into my watch LarryO and his faithful canine Cleo joined me on the Broad St. bridge. He spotted a falcon flying in from the east and right to the nest box. It was at this time Donna reported that both Unity and the Mr were at the nest box and possibly bowing was involved. Larry and I looked at each other like huh we only saw one go up there. Oh well you can't win them all! Larry saw one leave and disappear behind the Times Square building so he left to go find it while I remained. Unity showed herself next to the main cam.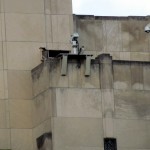 Larry returned and stood by me as I was in the van and we both managed to miss Unity leave. She probably caught a tail wind and poof she was gone! The wind kept trying to blow Larry down the street, I think he actually grabbed hold of my door a couple times. He finally had enough and decided to go. I can't remember the last time I saw him but he's looking healthy. As i was waiting for a falcon or two to show up I took pics of first some crows and then some pigeons on the roof of the Blue Cross Arena. You'll find them in my album at the end of this report. KathyO came along a little over an hour later.  We took a ride to see what we could see and when we returned there was nowhere to park so we went up on the roof of the South Ave. garage. Nearly 3 hours since Unity had left the nest box area she returned to it landing on the main cam.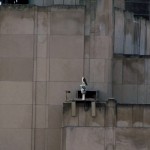 Kathy wanted to get going so I dropped her off at her car took a quick run around the city stopping at high falls before going home to get something to eat. As I was just getting ready to go back downtown I got a text from Donna that a falcon was on the nest ledge but when I got there it was gone. With nowhere to park because of high school basketball taking place at the Blue Cross Arena I was forced to go down in the hole (my name for Aqueduct St.) because you're surrounded by buildings. Your view is very limited there but at this particular time it worked out well for I spotted Unity up on the southeast corner of the Wilder building and she had prey. Feathers were flying but they weren't coming down rather they were wind blown up and out probably landing in the next county or maybe even Emerald City along with Toto too! lol
She was having some difficulty holding on to the prey without getting blown off that corner so I shot a video to show her struggle. Every once in a while she would whine and I thought that perhaps Mr was near by where I couldn't see him. This gorgeous girl eventually quit eating and flew off with her stash. After she cached it somewhere she  showed up at the nest box as reported by Donna.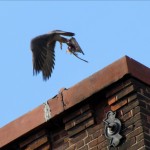 Suddenly I saw a falcon flying above the Times Square building and then it was joined by another and so I assumed it was Unity and the Mr. Donna texted me that Unity was still in the nest area. My first thought was Archer has returned and when I lost sight of them behind buildings I panicked not knowing if I was going to find them fighting when I surfaced from the hole. As I was walking around down there looking for them I decided that was it I had to get out to where I could see more. With no where to park I decided to return to the South Ave. garage where I had a good view of the downtown sky and tops of buildings. Having arrived on top I got a text from Donna saying that she thought the timing of the still cam and my tweet that I saw 2 flying was off a bit and that it was probably Unity flying with him after all. By this time I was shaking and wanting to be sure there wasn't a 3rd pefa. I soon spotted Mr on the 2nd ibeam of OCSR southeast side. And then I noticed a falcon flying up to the nest box. It turned out to be Unity and I wasn't seeing any other falcons. Phew the crisis was over!
Mr flew over and joined Unity landing next to cam 4 I was told there was echupping and then he left never to be seen again. I remained on top of the garage until just before dusk watching Unity sitting on the nest box ledge looking quite dominant having taken over this place where Beauty and Archer had brought up Callidora and Jemison. I couldn't help but wonder what the near future holds for our Rochester falcons as Unity flew off to the northeast and out of sight. This would end my watch for today. I pray for a happy outcome that we can all smile about! 🙂
Please click on the links below for video and more pics from the days events.
http://pix.kg/p/376870794213%3A1352252742/scl