Falcon watch 5-20-12
By Rochester falcon watcher MAK
As I approached the Times Square building after getting off the bus around 7:45am I spotted DC on the northeast corner just above the nest box and well.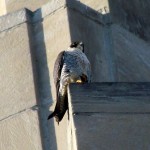 15 minutes later he flew off and went to the nest box briefly then shot back out flying above the Wilder building. Half way back to the Times Square building he spotted a Starling and stooped on it only to pull back before running into the Phillipone building! Sometimes you watch these birds with your heart in your hand because of their daring escapades. DC then landed under the northwest wing.
After a 15 minute perch he flew off to the northwest over Widows Walk(WW) and out of view. KathyO came by and asked if I wanted to ride over to the Brighton Site (BS). Dana had tweeted that DC was over there but when we got there he was gone and Pigott was on a northwest corner in the front of the building.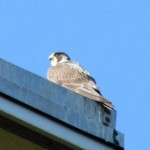 We didn't stay long returning downtown where I spotted Beauty on the northwest corner of the Crossroads building.
20 minutes later the Beautyful one flew off and ended up on the northwest corner of Widows Walk out of the sun which was heating things up quickly this morning.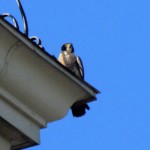 We couldn't see Beauty and thought she left but she may have gone in farther where we couldn't see her. Kathy left about 10am and I stopped to check the river before going down to the hole(Aqueduct St.) to find some shade. I fpund a Great Blue Heron fishing and captured a pic of it flying from one spot to another.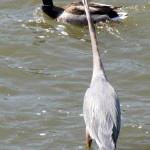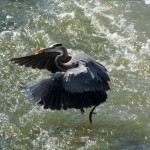 Click on the pics for full version
I hung out a while longer and decided to go home and get out of the heat. Although it was a short watch by my standards it was a good one that made me smile! 🙂
Here's the link for my album
http://pix.kg/p/360091085213%3A1241834970/scl