Morning Watch 5-22-12
By Rochester falcon watcher MAK
I had the good fortune of having the use of a vehicle this morning and so I took full advantage of it. I landed on the Broad St. Bridge(BSB) just before 8:00am. After a look around and not seeing a pefa I contacted Donna to confirm that Beauty was in the nest box on her eggs. She's always happy to help and I appreciate it tremendously! Having the use of a vehicle afforded me the opportunity to go check on the Brighton Site(BS). Since I didn't see Dot.ca(DC) downtown I thought perhaps he was hanging out there with Pigott. I didn't find him but I did find Pigott on the front of the building(north side) 4 windows down perched on a ledge with her back to me. She did turn her head so I could see her very cute face!
I didn't stay long since DC wasn't around returning to the BSB and finding out a switch had been made in the scrape while I was gone. DC was now on the his eggs. I drove down to the hole(Aqueduct St.) to see if  Beauty was on the Wilder building or Widows Walk. As soon as I turned onto the street I looked up and could see the Beautyful one perched near the northwest corner of the base of Mercury a place that can't be seen from the bridge.
After 15 minutes Beauty managed to bring up a sizable pellet  making room to eat cached food she had up there.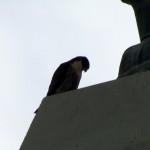 After her talon licking good meal she had a poop for herself and just relaxed for a bit with a full crop.
Beauty flew off Mercury after over an hour spent there and went to the deck near the main cam to patiently wait for DC to give up his spot in the nest box on their eggs.
He wasn't budging so she went into the nest box to be more convincing to him. DC finally gave it up and flew the coop flying behind the Times Square building to the Widows Walk flying off seconds after he arrived to the south. I had to be on my way at this point but I was smiling for I had seen all 3 of our fabulous Rochester Peregrine Falcons! 🙂
Click on the links below for more pics and a couple videos
http://pix.kg/p/404247285213%3A1741739262/scl