Canada banding and falcon watch 5-23/24-12
By Rochester falcon watcher MAK
Let me just start by saying this was the best falcon fun I've had to date. From seeing some tandem flying at the Burlington bridge to holding a real live eyas while it got banded to watching a couple of fierce moms defend their nest and seeing one of my favorite pefas- Quest again. Holy flying falcon I had the time of my life and I owe Joyce a great big thank you for taking me with her for this adventure.
We started out Wednesday morning for the Burlington Bridge banding at 10:00am. The resident pair-Cirrus and MacKenzie were both present and in defense of their nest site as Mark Nash placed a board between them and the banding crew.
These two gave quite the show and quite a start to our trip! Our next stop was the Sheraton in downtown Toronto where we saw Rhea Mae and Tiago sitting on the ledge 43 stories up and inside at the banding Joyce got to hold Marlee, the first male to be banded. We also met up with Kathy, Dana and Carol who rode up together.
Two males named Marlee and Cosmo and two females named Journey and Fef were banded at this site. The 5 of us Rochester falcon watchers decided to go see Quest when we left the Sheraton. Joyce and I arrived a little before the rest to find Quest on top of the Harlequinn building keeping an eye on her babies across the street in the nest box. Kendal didn't show up until much later when Joyce and I returned to the site after going for a bite to eat. The other ladies had left for home and missed him.
This was the end of day one for Joyce and I as we got a hotel room across the street from the Yellow Pages building where Linn and Reuben reside. In the morning we were lucky enough to see both pefas present and a food exchange made.We didn't spend much time with them for we had to get to the Canada Square site for their banding at 10:00am. Traffic was horrendous as usual in and around Toronto and we were almost an hour late but lucked out as they were just getting ready to go up and extract the eyasses from the roof. Mark Nash had brought a nest box to place up there as they were nesting on the roof  without the benefit of a proper home. We watched from about 6 feet away as Haven(named by CPF) the unbanded female did her best to defend her babies and nest. Wow what a show we got here as well!There weren't many people at this banding and what a surprise when Marion Nash called out MAK would you like to hold an eyas? Are you kidding me? Of course I would, and so I held Solar whilst he got banded.After this banding we left for the next one in Etobicoke at the Sunlife building where Jack( dad to Dot.ca) and new female replacing Angel the infamous O'Connor reside. We caught one brief glimpse of him as the males usually don't get involved with protection during banding festivities. They protect the territory and leave the nest to the females and in this case left it in good hands or shall I say talons. O'Connor proved to be just as fierce and fiesty as Tracy described her on many occasions. She pulled a net out of the hand of Mark Nash and thumped a guy on duty twice on the top and back of his head. He should have been wearing a hard hat so that he wouldn't have lost any blood from the experience. Sheesh! Kathy known to us on the forum as Carly a regular watcher at this site said she heard him yell OW! all the way down on the street some 200 ft.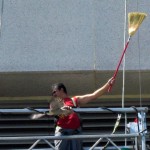 There were 3 females and 1 male for this site and one heck of a show put on by Miss O'Connor, who by the way is quite big and beautiful!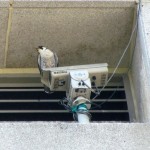 After helping Mark  and Marion load their equipment into their car we said our goodbyes and left for the states. Joyce wanted to check the Niagara Gorge before it got dark on our way home. Unfortunately the mist from the falls and the lack of light made for very poor camera conditions but we did see the babies and 1 adult in the scrape. All together on this 2 day excursion Joyce and I saw 13 adults and 22 eyasses for a whopping grand total of 35 Peregrine Falcons. I'd say that's enough to make anyone smile! 🙂
There's many pics in 2 albums and many short videos from this trip so make some popcorn and click on the links below
http://pix.kg/p/651053585213%3A1006727641/scl