Weekend Falcon Watch – 10/5 & 10/6/19
By Rochester Falcon Watcher Carol P.
Here we are in fall already!  Where has the time gone?  The Rochester Falcon Watchers are feeling very sad after losing Donna and Phoenix.  With Jupiter doing well in rehab, only Lakota is flying free.  Thankfully, watcher Dana saw him last week.  Well, it's been awhile, but here is my watch report from this past weekend.  I'm a bit rusty, so hopefully you'll enjoy.  🙂
Saturday, 10/5/19
I've been out falcon watching at least once a week, usually Sunday, sometimes Saturday.  Since the weather was going to be sunny on Saturday, I decided to get out early.  It was chilly, but the sun made it tolerable.
My first stop was Maplewood Park, where I could see Seneca Towers (ST) across the river.  I first spotted Billie on the north end window ledge.  A few minutes later, Beau came flying by her and landed on the NW corner.  It was great seeing both of them.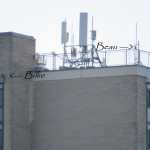 <— Billie and Beau on ST.
Next was downtown.  I drove by Kodak Office first to check the tower.  Also, from there, I had a good view of the downtown area.  There were no falcons in view.
One of the Kodak buildings has been taken over by Monroe Community College.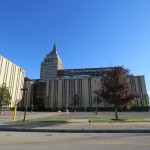 While I was checking out things from the hole (Aqueduct St), Dana tweeted that Beauty was on the old RG&E antenna.  I headed over and stopped where I had a good view of Beauty.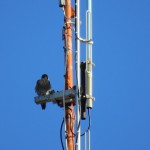 <— Beauty on antenna.
Beauty took off, heading west.  That's when I heard the wonderful sound of a juvie calling from above!  From where I was located, I couldn't see any falcons.  I quickly texted to Dana that I could hear a juvie and she responded that Beauty and the juvie met west of Xerox over the river.  She was able to see them from where she was.
I headed over to the Court St Bridge.  From there, I could see Beauty up on the Times Square Bldg on the NE wing ledge.  She had food and was eating.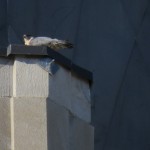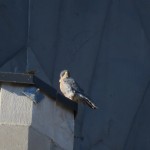 <— Beauty with food on the TSB.
Well, darn.  I had missed seeing the juvie, that I assumed was probably Lakota.  But I was happy to hear that wonderful cry.  It had been a long time.
Beauty finished her meal and ended up flying over to the north side of OCSR.  When I caught up with her, she was sound asleep.
Sunday, 10/6/19
It rained on and off during my Sunday morning watch.
I took the same route Sunday morning, that I did the day before.  From Kodak Office, I could see a falcon on the Frontier Communication Tower (FCT) NE box.  It was Beauty.  The FCT looks good after a recent paint job.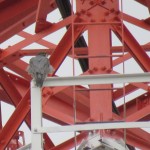 <— Beauty on FCT.
From the Andrew St Bridge (ASB), I could see Dot.ca on the north side of OCSR and Beauty on FCT.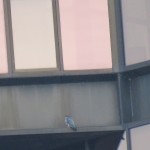 <— Dot.ca on OCSR.
I returned to keep a closer eye on Beauty.  The rain cleared and Beauty settled in for a good preen.  She then spread her wings and took off heading south.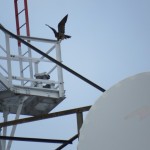 <— Beauty on FCT.
I lost sight of her and started my search.  Dana was also out on a falcon watch.
Having no luck finding her, I parked on the Court St Bridge.  From there, I could see a falcon on the NE corner of Widows Walk.  By the time I got over there, the falcon was gone. Or so I thought.  I saw movement on the old City Hall (Irving Place) roof line.  It was Beauty and she was on the move.
She walked out of view.  Where did she go?  After a few minutes, Beauty came back into view.  She had taken a bath.  Beauty spread her wings and started to flap, flap, flap.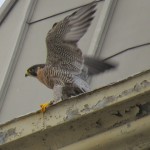 <— Beauty on old City Hall after her bath.
I took a quick video to share.  Click the link below.
Beauty took off and headed back to the Frontier Communication Tower.  I ended my watch with Beauty on FCT and Dot.ca on OCSR.  All was quiet and peaceful.
I have thousands of pictures and videos to go through from my Summer watches.  I hope to share some of them some day.  lol
A couple weeks ago, Dana and I walked out on the newly opened Riverside path that starts on the Court St Bridge behind the Dinosaur BBQ.  It gives you a wonderful view of the river and the downtown area.  Here's a picture I took of the Times Square Bldg with the Powers Bldg behind it.  You can see both nest boxes.