Sunday Falcon Watch (10/13/19) Plus Bonus Pics/Video from 6/15/19
By Rochester Falcon Watcher Carol P.
It was another beautiful (but chilly) fall morning here in Rochester, NY.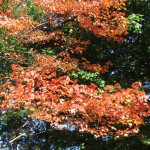 As usual, my first stop, after getting a breakfast sandwich to go along with my coffee, was Seneca Towers (ST).  From Maplewood Park, I could see one falcon on the NW corner with a breakfast of their own.  Too far to tell if it was Billie or Beau.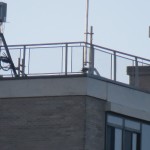 On my way to Kodak Office, I passed the home of the Rochester High Falls Mounted Patrol.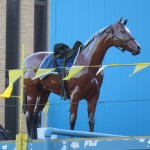 From Kodak, I could see a falcon on the NE corner of the Powers Bldg.  With a closer look, I could ID the falcon as Dot.ca.
I found Beauty on the north side of OCSR on the top Ibeam.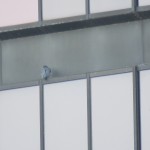 This was my view from the Andrew St Bridge (ASB).  I could see both Beauty and Dot.ca from there.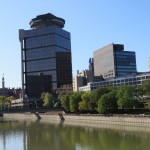 Rochester Falcon Watcher Kathy O joined me on the watch.  Soon after she arrived, a juvie Red-tailed Hawk flew over us with a gull escort.  When the hawk got to close, Dot.ca took off and chased it to the west.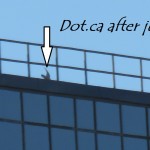 Dot.ca did not return.  Beauty was still on OCSR when I ended my Sunday morning watch.
On my way home, I passed by Seneca Towers again.  There were no falcons on the building.  But I did spot a falcon on the antenna on top of the Kodak Research Labs.
I was unable to see if this falcon was banded, but I assume it was either Billie or Beau, since it was so close to ST.  The falcon took off, stooping down and then off to the south.
Time to really end my watch!  🙂
Now for the bonus pics and video from 6/15/19.  I'm slowly going through my summer pics/videos.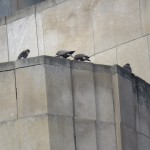 <— All 4 juvies being fed by Beauty on the TSB wall.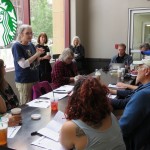 <— 2019 Rochester Fledge Watch Mtg.
Just click on this YouTube link to see a video of Beauty feeding the eyases on the wall!