Rochester Falcon Watch – 2/9/20
By Rochester Falcon Watcher Carol P.
After Rochester was hit by a snow storm over the past couple days, I could not wait to get downtown to check on our pair.  We got quite a few inches, with some icy rain in-between.  I really can't wait for spring!
My morning watch was a short one.  After feeding the pigeons in the "hole", I looked everywhere for Beauty and Dot.ca.  I wasn't able to find Dot.ca, but I did find Beauty on the Kodak Tower.  She was tucked in on the arch ledge above where the old Mariah and Kaver nest box used to be located.  It was very cold, and I'm sure there might be some heat leaking from the top of the building.
As you can see in the first picture, many of the Kodak buildings that I worked in for many years, have been taken over by Monroe Community College.  Nice to see them filled again, but it is very bittersweet.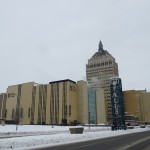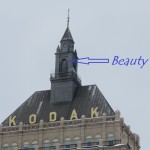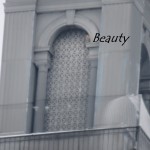 On my way home, I stopped at Maplewood Park for a look at Seneca Towers (ST).  I was very happy to see both Billie and Beau on the railing on top of the building.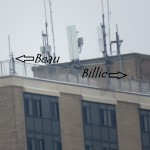 Here are some pictures from the nest box cameras that I thought you'd like to see.
The first two are of Beauty visiting the TSB nest box on 2/4/20, before the snow storm hit.
Here are the nest boxes after the storm.
Enjoy the snow and keep warm and safe!