Morning watch 9-25-12
By Rochester Falcon Watcher MAK
Just when I think they're in a routine they switch it up on me as I found no falcons on any of the buildings near the Broad St. bridge or on the east side. But as I made my way back from checking HSBC and the Xerox area I stopped at the intersection of Broad and Clinton and looked thru my binocs to find a falcon on Times Square under the northeast wing. This falcon had its back to me but I did get a shot of it turning its head my way.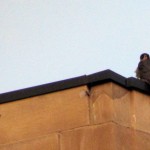 Click on the pics for full version
This was the Beautyful one! I walked down to Exchange Blvd. and set up by He's chinese restaurant to watch Beauty. It was quite breezy this morning ruffling up her feathers but it wasn't until she stretched that I could see for sure that it was indeed her.
I spent the better part of an hour with Beauty before she took off. And I had to leave for a while myself to help out a friend who didn't know her way around the city and asked if I'd drive her to an appointment.
With that taken care of I returned to my watch a little over an hour later with my friends car. Not finding any pefas I stopped on the Andrews St. bridge and spotted a white chested falcon at the north corner top ibeam of OCSR.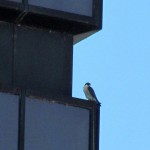 I was too far away to positively ID this bird so I drove over to Bragdon St. which is located by the Radisson Hotel for a closer look see. I got out the car and walked down by the river to take a couple pics and when I turned around to go back to the car there was the parking police slapping a ticket on the car! I was gone less than 5 minutes for crying out loud and it wasn't my friend Jimmy who is another parking enforcement official (the one that told me of Jemison being down in front of the Rochester Plaza Hotel back in 2010). So it will cost me $25 for the ticket and a $15 surcharge to find out that Dot.Ca (DC)was on OCSR. UGH!
When I got in the car and looked I couldn't see DC so I took another ride around our fair city only to end up on the Andrews St. bridge once more. I got my binocs out and spotted 2 falcons on the north side of OCSR. DC was at the corner same as before and Beauty was a few feet to the right of him on the top ibeam.
They weren't really doing much of anything as I watched them for about 15 minutes before my friend called to say she was ready to be picked up. I left our downtown pair ending my watch and even tho it was an expensive one I still left downtown smiling for having seen Beauty and DC! 🙂
Just one video link today to click on below