Morning watch 9-26-12
By Rochester Falcon Watcher MAK
Arriving downtown in darkness I went straight over to the east side thinking I would find Beauty on her 5th column south side night time roosting spot on Xerox or on her morning hunting spot on HSBC. She was on neither so I made my way to one of my roosting spots by the Rundell Library on a picnic table. I could see the Frontier Communications tower,Mercury,OCSR and the Times Square (TSB) area. At about 7:20am I saw a pefa on the ledge right above the nest box briefly and in the blink of an eye it was gone. I then took a walk down to Tim Hortons on Main St. and while in there got a text from Donna saying that Beauty was at the nest. As soon as I walked out of  Tims I spotted Beauty as big as life on the main cam.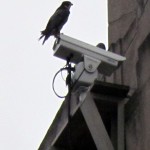 Donna also said that she heard the distinctive chirp of Dot.Ca (DC). I found him as well (thanks to my good friend and cam watcher Donna) under the northeast wing of the TSB as Beauty was looking up at him.
They both had their heads on a swivel looking for prey to pounce on. DebbieH came by to observe our fabulous falcons on her way to work and right after she left Beauty took off and stooped in the river. I was stationed at another one of my roosts-by He's Chinese Restaurant on Exchange Blvd. so I quickly lost the Beautyful one behind buildings. KathyO drove by honking her horn and waving to me on her way to give Brian a lift to an appointment before she went to work. We Rochester falcon watchers are a tight knit family that help each other out in life. So I watched DC for the next 20 minutes bob and turn his head and have a nice stretch for himself.
As I wondered where Beauty had gone, suddenly I spotted a familiar face poking up from the base of Mercury. It was Beauty come back from her unsuccessful stoop to try her luck from there right above the river.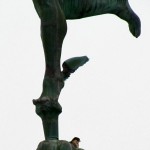 I walked up to the Broad St. bridge so I could watch them both easier without having to look away from one to see the other. They both had birds flying below them and Beauty once again flew off after pigeons above me out over the river and beyond.
I watched her until she disappeared into the southeast sky. I waited to see if Beauty would return but she didn't so hopefully she caught something and was eating somewhere. Back down to He's to keep an eye on DC who was still under the northeast wing of the TSB looking around for his own meal. A silly starling flew out from behind the northwest wing and made a quick u-turn when it got a load of DC right there staring him in the face!  Right after that DC scratched his head and had a look of having something to ponder.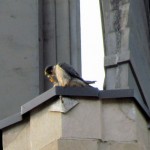 Soon after this I decided to catch the next bus home thus ending my watch on a happy note with a smile on my face! 🙂
I have links below for a photo album and videos for your viewing pleasure. Just click 'em
http://share.shutterfly.com/action/welcome?sid=0AaN3DFm0ZMWrJrA
http://youtu.be/AfDY0n_1o1s
http://youtu.be/UxAk5bHssrk
http://youtu.be/QPHLhkEdWY0
http://youtu.be/giOxgvmorC0