Morning watch 9-29-12
By Rochester Falcon Watcher MAK
As my bus approached downtown today I could see road crews working on Main St. Yay,  it was finally getting  paved. There was a lot of work going on around our fair city. The Phillipone building had painters giving the garage ceiling a fresh coat and there were city crews trimming trees over in front of City Hall.
I didn't see Beauty on the base of Mercury until I got up on the Broad St. bridge(BSB). She was on the northeast corner where she could only be seen from the bridge.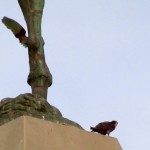 At first she was just standing there and then she started nibbling on something. I knew she was on the last leg (so to speak) of her prey item for she was sporting a pretty full crop.
Beauty stayed there for about an hour as I enjoyed her company and the river dwellers as well. I so love the fall skies with all the different cloud formations especially at sunrise.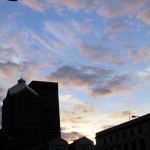 Just before 8:00am the Beautyful one took off to the southeast flying right into the sun making me lose track of her.  I watched a Great Blue Heron fish in the river and had a young gull land on the bridge railing about 6 feet away from me. Nothing entertains quite like nature! I happened to look up at the right time to see a falcon fly over the Wilder building heading straight toward the Frontier Communications Tower(FCT). I strolled over to City Hall and found Beauty on the 2nd arm west side of FCT. She had her back to me so I went to the parking lot that is situated between the Frontier building and the church on Fitzhugh St. across from City Hall so I could see the front of her. I had time for a few pics and a video and then she was off again and so was I.
She flew in the direction of Times Square so I walked back that way and as I got to the parking lot by the hole I noticed a bunch of Starlings all over the Mercury statue. I was just about to click the pic when they all shot off at once and in coming from behind was a pefa. It was Dot.Ca and he chased them for a bit before circling back overhead and settled over on the top ibeam of OCSR at the south corner.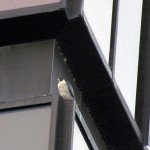 Right after I tweeted that DC had arrived I got a text from Donna saying that Beauty was at the nest box. I turned around to look but I couldn't see her so I set up by the corner of Keybank in the hole and watched DC as he turned around  and moved about a foot or so to the east of the corner with his back now to me. He was doing a lot of preening and I thought maybe he was getting his groove on to go join Beauty in the nest box for some bowing and bonding.
I couldn't seem to warm up this morning so I decided to end my watch and catch the next bus home. It was great to spend time with both Beauty and DC which is all the reason I need to keep on smiling! 🙂
Pics and videos can be seen by clicking on the links below
http://share.shutterfly.com/action/welcome?sid=0AaN3DFm0ZMWrKFA
http://youtu.be/gZU3wym6GNE
http://youtu.be/wasdHxdJOs8
http://youtu.be/896zmmdN_58