Morning watch 10-28-12
By Rochester Falcon Watcher MAK
It was dark and there was a very fine misty rain this morning as I left for my watch. It took me some time but I finally found Beauty on her night time roosting spot high up on the 5th column of Xerox south side.
I was parked on Chestnut St. by Manhattan Square Park to observe our downtown matriarch as she was slow to get out of bed this morning! Not surprising as all the prey birds were not up either, it was very quiet. I left the Beautyful one after 20 minutes to go to the Brighton site to check for falcons. It was quiet there as well with no birds visible or heard except for 2 birds of prey. I spotted Pigott preening on a southeast window ledge on the back of the building. And a minute later I noticed Dot.Ca(DC) on the west end of the vent.
Less than 5 minutes later Pigott started vocalizing prompting DC to fly over to the window ledge to her left and then 30 seconds later he flew to a southwest corner and was looking around for breakfast.
I stayed with them for about 25 minutes and decided to go check KP. I got lucky to find KPF on her favorite perch-the railing by the red door. Due to the weather conditions I wasn't able to get a picture of  her and she flew off to the north out of sight after just a minute or so after I found her. Timing is everything sometimes and so I was successful in locating ALL of our Rochester Peregrine Falcons this morning. I waited half hour or so for her return and when she didn't I drove back downtown. From the Broad St. Bridge I found Beauty on the southwest side of OCSR on the top ibeam. She had her back facing out and then I went down to the hole for closer viewing in the dismal,dreary rain.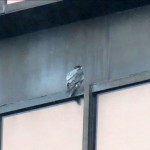 I shared space with Beauty for nearly an hour before ending my watch and leaving downtown with a big ole smile on my face for having seen 4 falcons! 🙂
Links for videos below-just click to view them
http://youtu.be/aUElG_b6vMk
http://youtu.be/fTPUURi1J1c
http://youtu.be/zNSXGQcDAnA