Morning watch 10-29-12
By Rochester Falcon Watcher MAK
When I left for downtown this morning it was wet,foggy and a little breezy. When I arrived on the Broad St. Bridge it was obvious by the fog enveloping the tops of the tallest buildings I was going to have trouble finding falcons. After checking the Times Square area I drove over behind Xerox and parked by the Geva Theater where I could see Xerox,Bausch&Lomb and HSBC. The crows were starting to leave the trees in Washington Square Park and if Beauty was up on Xerox I surely couldn't see her.
I figured I'd go over to the Brighton site and give the fog a little time to lift and come back to have a look see. Turned out to be a good call for there was no fog at the top of the Brighton site building and I found Dot.Ca(DC) on the west end of the south side vent.
10 minutes later DC flew around the building and came back to the south side landing on a southwest corner briefly before flying off to the north.
I made 2 more trips around the site looking for him or Pigott to no avail so I returned to downtown. I spotted Beauty up next to the main cam with her back to me on the Times Square building. I then drove down to the hole to park and walked over by He's Chinese to be sure it was the Beautyful one. She let out a little whine as I took this one pic of her.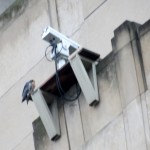 I  tweeted it out and when I looked back up there she was gone. I took a spin around the city without finding her and then checked KP with no sighting there either. I ended my watch happy to have found Beauty and DC but wishing I had seen Pigott and KPF too with the big storm coming later today. My concern for our falcons is with the predicted high sustained winds with gusts from 60-70 mph. I will definitely go out tomorrow to check but the conditions may keep me from seeing very well.  No matter-come rain or shine I'll be watching and if I see any or all of our Rochester Peregrine Falcons I'll be smiling! Stay safe everyone!! 🙂
One video link below of DC click it to view