Morning watch 10-30-12
By Rochester Falcon Watcher MAK
When I left for my watch this morning I wondered what destruction I might find enroute to downtown from superstorm Sandy. I was pleasantly surprised to see very little evidence that we had anything more than a rainstorm. And as I arrived on the Broad St. Bridge(BSB) another great surprise was Beauty perched on her favorite spot lately the west corner of OCSR top ibeam.
It was a relief to find her safe after the night of wind and rain we had here in Rochester but there were more falcons to check on so I left her after a few minutes to go to the Brighton Site(BS). I drove around the building at BS several times to no avail-there were no falcons around. I left to run an errand stopping downtown on my way through and found Beauty still on OCSR. After taking care of business I once again checked to find Beauty was now on the 2nd ibeam west corner of OCSR and she was seriously looking for something to grab for a meal.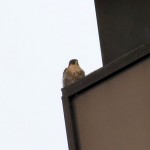 I continued on to check BS again with the same result-no pefas! I then checked out Kodak Park and found nothing after CarolP had just been there and tweeted that she didn't see anything either. At this point I was going to end my watch until Pat tweeted out that she might have seen 2 falcons fly to OCSR so naturally I had to go see if it was Dot.Ca (DC) with Beauty. I found Beauty on the top ibeam west corner of OCSR but no other falcon was on the building or anywhere around the Times Square/BSB area.  I ended my watch to do a couple more errands. When I was done I figured I might as well check BS one more time and apparently the 3rd times the charm for I spotted DC on a southwest window ledge. He had something up there with a pigeon sized wing but was only just messing around with it and not eating.
Soon after I heard another pefa vocalize and off DC went to join Miss Pigott on the northwest corner of the building.
Now I could happily end my watch having found 3 of  our 4 Rochester Peregrine Falcons. Smiling-you bet I was! 🙂
No videos as I had trouble uploading them for some reason