A Wonderful Weekend for Falcon Watching! – 11/10 & 11/11/12
By Rochester Falcon Watcher Carol P.
I want to start my report by saying thanks to all the Veterans for their service.  While downtown this morning, I was able to attend the Veteran's Day Ceremony at the War Memorial.  I'm  really glad that I was there to see it.
Yesterday, I could not find Beauty, but I did find Pigott at the BS location.  I spent a couple hours watching her.  No sign of Dot.ca.  Pigott only flew once during the time I was there.  I could tell she had eaten before I got there, she had a very large crop.  Kathy O reported seeing Beauty on the Frontier Communication Tower later that evening.
Today (11/11/12), was a gorgeous  day, with temperatures close to 70 degrees (F).  I decided to get out early.  Sun was promised for most of the day, but it turned out to be mostly cloudy on this Veteran's day.  No way was I going to complain.  The warm temperatures were very welcome!
Just after I arrived on the Broad St. Bridge, a little after 8 am, Beauty brought in breakfast, landing on the base of the Mercury statue.  She sat there for awhile, just looking around, before she finally started to prep her meal.  Feathers rained down everywhere.  After checking out some of the feathers that landed near me, I decided that her meal this morning was Pigeon.  She remained on Mercury's base eating for an hour and 4o mins.  At 9:40 am, she tucked what remained of the meal under Mercury's foot at the base of the statue.  Beauty then flew to the west end of the top IBeam on the OCSR, south side.  She then walked around to the north side.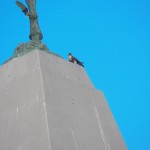 While she was eating, I walked over to Aqueduct Park, which is on the north side of the Mercury statue.  From there I could see that there was a very large pile of wood up against the Main St Bridge.  Looks like the city will have to do another clean-up.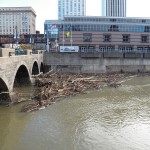 Here are some pictures of the area I took while walking around this morning.
I drove over to the Andrew St Bridge and found Beauty on the top IBeam, where she had walked around the corner.  After watching her doze for a while, I decided to go check on Pigott at the BS location.  I had no luck finding her, so I headed back downtown.  On the way, I stopped at the Cornhill area along the river to view the city from the south.  Here is a picture I took.  Gives you a whole different perspective.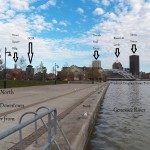 I went in search of Beauty again and found her on the Frontier Communication Tower (FCT).  She was on the NE box below the platform.  That's where she remained most of the day.  Both Brian and Joyce reported seeing her there after I left.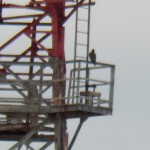 As I left the downtown area, I decided to stop at the pedestrian bridge to check things out.  Here are a few pictures I took at High Falls and the Genesee Brewery.
I do love the High Falls area.  It was nice to see the old and the new sights.  During the day, I checked at KP twice with no luck finding KPF.  Later today, Joyce & Kathy O saw Pigott over at the BS location.  No sightings of Dot.ca by any of the Watchers.
I thoroughly enjoyed being out and about today.  It was like a breath of fresh air being able to roll down my windows while driving around.  I went on other adventures today, but that's for another time.  🙂  With Winter coming, I just had to get out and enjoy the day and Watch the Rochester Falcons!
This last picture is for my very good friend Dale.  When I saw these little sparrows taking a bath in a puddle over at city hall I just couldn't resist taking their picture.  This one I just knew Dale would love.   There was so much sadness after losing our friend Anne, I decided we needed a laugh.  🙂  REMEMBER TO CLICK ON A PICTURE FOR A LARGER VIEW.