An Evening Falcon Watch (3:45 – 5:10 pm) – Beauty, Pigott, a Whole Lot of Crows & Feathers Flying! – 11/13/12
By Rochester Falcon Watcher Carol P.
It was a cold and cloudy day today in Rochester, NY.  The temperature never made it out of the 30's.  Brrrrr.  Since the end of Daylight Savings Time, my evening Watches have been very short.  By 5:00 pm, it gets dark and I head home.  I wanted to check all 3 Peregrine locations, so I had to be quick.
I arrived at Kodak Park to check on KPF at 3:45 pm.  I looked everywhere and was unable to find any falcons.  It has been awhile since she has been seen, so I'm starting to believe that she may have migrated.  If she has, I truly hope she returns next year.  But, I haven't given up hope of seeing her, so I'll keep looking.
At 4:10 pm, I was downtown and from the Andrew St Bridge I could see a falcon on the money bag hand of the Mercury statue.  I drove over to the Broad St Bridge and then down to Aqueduct St., where I parked in my normal spot.  From here I could see that it was Beauty.  She was all poofed up from the cold, looking everywhere.  There was a large flock of Starlings flying in tandem and landing below her.  She watched them intently as they all flew into the vines on the building and then off again.  It looked like they were maybe getting food of some sort out of the vines?  They flew off and Beauty remained, continuing to look everywhere.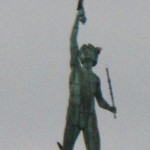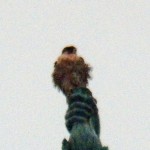 I checked out the downtown area and could not find Dot.ca.  This is his first year here in Rochester, so we don't know what he normally does during the Winter months.  Our Tiercels (males) have all migrated, does Dot.ca also migrate?  We'll keep looking for him.
It was starting to get dark, so I had to get going.  One more location to check out, the BS location.  I arrived there at about 4:50 pm.  I found a falcon on the south side of the building.  A falcon surrounded on all sides by 1,000's of Crows and they weren't being quiet about it.  I parked my car and checked out the falcon, trying to determine if it was Pigott or maybe DC.  But, it was too dark to be sure.  I assumed it was Pigott, since Dot.ca has not been seen for a few days.
Seeing and hearing all of these Crows is amazing.  We believe that this is one of their staging areas, where they gather before heading downtown.  By 5:10 pm, 90% of them were gone, flying north towards the city.  An incredible sight!
During all of this, Pigott remained quietly on the building, just watching.  By this time it was dark and just as I was getting ready to leave, Pigott flew off, stooping towards the east.  She then flew back to the building and landed on the west side, near the cubby hole.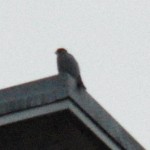 Just one more thing before I sign off.  Here is a video of Beauty I took on Sunday morning as she prepped her breakfast on the base of Mercury.  This is what we mean by "Feathers Flying!"  Enjoy!