A Saturday Falcon Watch (7:30 am – 2:00 pm) 11/17/12 – Beauty & Lots of Falcon Watcher Friends Out & About!
By Rochester Falcon Watcher Carol P.
Although it started out really cold and frosty this morning with temps in the high 20's, it ended up being a very nice day, with lots of sunshine and temps in the 50's.
Last night (Friday) Beauty was not seen.  While I was downtown watching the flock of Starlings that had taken over the Mercury statue, Joyce was at the BS location with Pigott.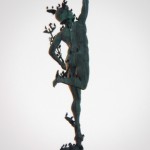 This morning (Saturday), I arrived downtown around 7:30 am.  For a 1/2 hour I searched for Beauty with no luck.  I ended up at the Strong Museum of Play, and watched for awhile from that location.  Here are some pics I took while over there.
Moving on, I returned to the Broad St Bridge and was happy to see that Beauty had arrived (8:00 am).  She was on the money bag hand of the Mercury Statue.
From 8 – 10:30 am, I watched Beauty do what Peregrines do.  She was in hunt mode, chasing pigeons all over the city.  Larry O joined me for awhile, but couldn't stay long.  After Larry left,  I found Beauty up on top of the Xerox Bldg on the NW corner.  I then followed her over to the Jail Comm Tower for the 2nd time.  She had gone over there earlier after hunting over mid-town.
At 10:30 am, Beauty took off heading north.  I followed, but was unable to find her.
I ended up back on the Broad St Bridge and Dana joined me there.  Neither of us were able to find out where Beauty had gone to.  At noon I checked out the BS location, but could not find Pigott there.  Kathy O and Joyce joined me there.
At 2:00 pm, I decided to head home, stopping at KP on the way.  The juvie Red-tailed Hawk was hunting there, but I did not see any falcons.
Earlier at 1:30 pm, Joyce texted that she and Brian H had located Beauty on the Frontier Communication Tower.
So, yesterday evening we had Pigott and no Beauty and today (Saturday) we had Beauty and no Pigott.  Hopefully we'll see both of them on Sunday!  🙂
REMEMBER TO CLICK ON THE PICTURE IF YOU'D LIKE TO SEE A LARGER VERSION.  THANKS!