A Sunday Falcon Watch (1:30 pm – 4:20 pm) – 11/18/12 – Beauty Seen Downtown; No Pigott
By Rochester Falcon Watcher Carol P.
I got a later start today.  It was another beautiful fall day with temps going up into the 50's and sunshine.
Earlier in the day, Joyce had reported seeing Beauty on the Jail Communication Tower (JCT).  So after doing a quick check at KP and not finding any falcons there, I headed downtown. I checked the whole downtown area and could not find Beauty anywhere.  So I decided to check the BS location to see if I could fine any falcons there.  Nope!  No falcons their either.  Besides the Crows and Pigeons, I saw what may have been a feral cat or maybe it lived at one of the houses nearby.  All I know is that I interrupted a cat nap and the napping cat was not very happy with me.  It kind of reminded me of the Cheshire Cat from Alice in Wonderland and then it was gone!  Poof!   Hopefully this little one had a nice home nearby to go to.  I really wish people would not let their cats loose outside.  I know it's not a falcon, but I had to include a couple pics of the BS cat.
After not finding a falcon at the BS location, I headed back downtown to look for Beauty and finally found her at 3:10 pm within the framework of the Frontier Communication Tower (FCT).  She was really hard to find  where she was.
Beauty took off heading southeast and I followed.  At 4:10 pm, I found her on the top Ibeam of the OCSR at the west end.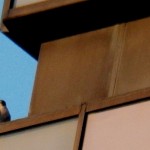 While I was watching Beauty, Joyce and Brian H had taken a trip to Buffalo and found Diamante (M&Ks son) and Glieg (Pigott's sister) at home at the Central Terminal.  🙂
It was a nice ending to this weekend before Thanksgiving.
REMEMBER TO CLICK ON THE PICS IF YOU WOULD LIKE TO SEE A LARGER VERSION.  THANKS!