Thanksgiving Holiday Falcon Watches (11/22, 23 & 24, 2012) – Beauty, Pigott & There's a New Guy in Town!
By Rochester Falcons Watcher Carol P.
Happy Thanksgiving Everyone!  I hope you all enjoyed your time with family & friends.  I know I did!  Of course that didn't stop me from getting out for a bit to visit with the Rochester Falcons.  Time to catch everyone up with what's been going on.
Thanksgiving Day – 11/22/12
I got out for a couple hours after dinner.  I'll first let you know that I still check on KP most days and have not seen any falcons there except for a pair of Kestrels now and then.  After checking KP, I headed downtown.  It was pretty much abandoned.  I found Beauty on the top IBeam of the OCSR at 3:20 pm.  I didn't have much time, so I headed over to the BS location.  Lots of Crows were flying over heading towards the city, but I could not find any falcons there.  After circling the building a few times, it was time to head back downtown.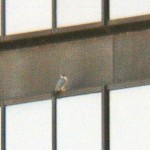 At 4 pm, I parked on the Andrews St Bridge and found Beauty still in the same spot on the top IBeam of OCSR.  I received a text from Joyce that she and Steve were at the BS location and that I just missed Pigott arriving and landing on the building.  After I left, both Larry O and Joyce saw Beauty on Mercury statue's money bag hand.  Well good to know that both Rochester females were home on Thanksgiving!
Friday – November 23, 2012
Arrived downtown around 9 am.  Found Beauty on the Frontier Communication Tower (FCT) on the NE box below the platform.
At 10 am I drove around the downtown area searching for a 2nd falcon.  I had no luck finding one, so I returned to the Broad St. Bridge, where I saw a Peregrine soaring above the Xerox bldg.  The falcon went into a stoop heading south and hit a Red-tail Hawk.  Over and over again the falcon hit the hawk and chased it south down the river.  The Peregrine returned, circling behind Xerox and the old Midtown Plaza.  I was curious, was this a 2nd falcon?  Was Beauty still on the FCT?  Only one way to find out.  I drove back over to the Andrews St. Bridge and saw that Beauty was no longer on the FCT.  Beauty flew in from the south and landed in the same spot she had been in when I left her there.  So it was Beauty who went after the hawk, pushing it out of her territory.
It was time to check on the BS location, where I hoped to find Pigott home.  I arrived there around 10:20 am and found a falcon on the SE corner of the building.  I circled to make sure there were no other falcons in residence.  Seeing no others, I returned to where I found the first one.  At first I assumed it was Pigott, but boy was she white?  Others had mentioned that she seemed whiter, not as salmon colored as she had been.  Hmmm.  Larry O joined me for a short while.  The weather was not very nice.  Dark, cloudy and getting cold, with some rain on and off.  Larry and I both questioned whether this was Pigott.  After Larry left, I decided to get the scope out and leaned it against the window, using it from inside my dry, warm car.  Kind of hard to hold it still, but I finally got a good look at this Peregrine.  A gorgeous bird, with large eyes, dark helmet, very white chest and hyper vigilant.  Was it Dot.ca?  I thought this bird was a female at first, but was later proven wrong.
I held the scope as steady as I could, keeping my eye on this falcon.  Finally, preening and stretching and scratching and …….. no band on the left leg!……. more scratching……no band on the right leg!  Well, well, well.  Not Pigott, not Dot.ca.  There was a new Pefa in town and he was unbanded!
I continued to watch this Peregrine until I saw a 2nd falcon stoop off of the front of the building at 12:10 pm, heading north and down below the tree line.  Up and down and up again.  The 2nd falcon flew back towards the front of the building and I followed.  It didn't take me long to find a falcon on a window ledge on the north side of the building.  Well, now there were two falcons!  The 2nd falcon flew up to a corner closer to the east end, so I was able to park where I could watch both of them.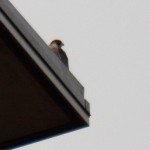 I was pretty sure that this 2nd falcon was Pigott, darker than the other one.  Did she not know that she had a visitor?
They remained in place until about 2:30 pm, when Pigott came off of the building and circled around to the other side.  I quickly looked back at the other one and it was gone too!  That's when Joyce arrived and we both watched as two falcons flew above us,  very obviously male and female.  Pigott and the visiting male appeared to do a little bit of talon tagging and then both flew back to the building.  He landed on his same spot and Pigott landed on a nearby ledge, close to the NE corner, where she could see him now.  Again, I wondered if she had not been aware of him until now?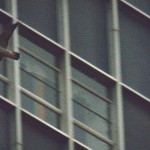 I caught Joyce up on what had happened and left for home at a little after 3:00 pm.  Joyce later reported that there was just a bit of activity after I left.   Pigott seemed to attempt to chase off the male and at 5:20 pm, when Joyce finally left, she could only see Pigott.  Did she finally succeed in chasing him away?  By that time it was dark, and we would have to check out the situation in the morning.
Saturday – November 24, 2012
Larry O reported from the BS location at 8 am that it was snowing like crazy there and when it finally cleared, he was unable to find any falcons.
It was a very cold and blustery day, with snow and graupel falling in between periods of sunshine.  After checking KP and downtown with no luck finding Beauty, I headed over to the BS location and arrived around 10:40 am.  Two falcons were on the building.  With the scope I verified that it was the unbanded male on a window on the SE side and Pigott on a window on the NE side.  They were on the same side of the building but on opposite sides of the building extension, so they could not see each other.  🙂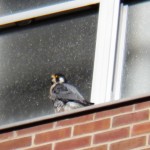 There was no where for me to park where I could see both of them, so I took turns, going back and forth.  Larry O joined me for a short while and as he was leaving at 11:50 am, Dana arrived.  I pointed out both birds and she parked where she could watch Pigott and I kept an eye on the male.  Both falcons remained where they were for most of my watch.  Dana and I switched, so now I was watching Pigott.
The wind was quite strong, sweeping leaves up the side of the building.  One landed next to Pigott on the ledge.  She took one look at it and pounced on it like a cat!  Then watched as it fell of the ledge.  lol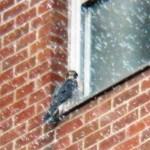 It wasn't until 3:00 pm that there was any activity besides preening, pooping and snoozing.  The Crows were starting to fly overhead and Pigott got a little agitated.  She took off and around to the back (south side) of the building, landing on a corner on the south side.  She passed right by the male, who remained on his window ledge.
At 3:10 pm, it was time for me to head home, leaving Dana to continue the watch.  On my way home, I checked out the downtown area one more time and again could not find Beauty anywhere.  At around 4:50 pm, Donna reported that Beauty had been on the money bag hand of the Mercury statue since 4:30 pm caught on the RFalconcam cameras.  Glad she was finally seen.
Joyce and Brian took on the BS location watch after Dana left.  They arrived around 4:20 pm and found both Pigott and the unbanded male on the building.  They left at 4:30 pm to check the downtown area, but before they got too far, Brian spotted a 3rd falcon flying towards the BS location.  Joyce's text said: "By the time we got back to BS, P and male were flying back up to east roof corners. P may have chased it away."
After looking at my pictures, I am sure that the falcon I thought was a female was definitely the same unbanded male.  The size difference was obvious when he flew with Pigott, a much larger bird.
We will definitely keep an eye on ALL the Rochester Falcons, including the unbanded male currently at the BS location.
PLEASE BE SURE TO CLICK ON THE PICTURES IF YOU WOULD LIKE TO SEE A LARGER VERSION.  THANKS!!!