A snowy morning watch 12-27-12
By Rochester Falcon Watcher MAK
I had to make my way thru 3 foot drifts to get to my garage and snowblower this morning so I could get my car out for a falcon watch. Mission accomplished-next was the trip to downtown as the roads were not ideal but better than expected. Still dark when I arrived on the Broad St. Bridge(BSB) and the parking lanes were not plowed so it was a bit tricky to sit on the bridge and watch for Beauty. I pulled over as far as I could and hit the hazard lights.
20 minutes later pigeons started flying across the BSB and at the end of it was Beauty chasing after them flying south to Cornhill and out of view. I set out to find her but was unsuccessful however, I did find lots of snow removal going on around the city. Starting at the ice skating rink at Manhattan Square Park.
After looking for Beauty over an hour at around 8:30am I ventured over to Brighton(BS). I was able to find both Pigott and BST-he was on a southwest window ledge and she was on the other side of the building on a southeast window ledge.
I stayed with them for about an hour as they were not doing much and had their backs to me. Both seemed settled in for a while so I returned to downtown. After searching all the open areas for the Beautyful one I finally found her up in the elevator shaft of the OCSR building where she is quite protected from the elements.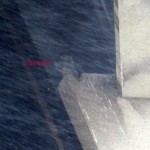 I couldn't really stay as there was snow removal activity all around me so I ended my watch and left for home. I was totally ecstatic to have found all 3 of our current resident Rochester Peregrine Falcons safe after the storm. A very good reason to smile on this day! 🙂
Links for a photo album and 3 videos are below-click em and observe
http://share.shutterfly.com/action/welcome?sid=0AaN3DFm0ZMWrRtA