A Very Snowy Thursday – 12/27/12 – Falcons Seen During the Day: Beauty, Pigott & BST
By Rochester Falcon Watcher Carol P.
Rochester (NY) received close to a foot of snow overnight.  I was unable to get out this evening to check on Beauty, Pigott and BST, but thankfully all three were seen earlier today.
At 3:40 pm, Lisa McK tweeted the following:  "At BS, 2 falcons found.  On SE extension."
That was the only tweet from this afternoon.  Thanks Lisa!
At 3:32 pm, Camera #1 caught a nice pic of Beauty visiting the Mercury statue.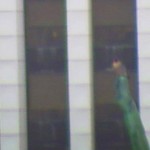 *
*
*
*
*
I've been meaning to download a video I took on 12/23/12.  It shows Pigott on the roof of the building at the BS location.  It shows her reaction to BST flying in from the east and flying directly over her.  Be sure to turn up the volume if you want to hear some lovely ee-chupping! lol 🙂
Just click on this link to view the video.
I'll leave you with some snowy images from today.  The first one is a picture from main cam showing a snow drifted nest box at the Times Square Bldg and the last three are from the parking lot at KP.  If you'd like to see any pictures in a larger version, you just need to click on it.  Thanks!